Loft aerials

Brian Butterworth published on UK Free TV
One of the most common problems people have with Freeview reception relates to the use of "loft" aerials.

Because the analogue TV transmitter network uses very high power transmissions (the total ERP for the UK is 64 megawatts) many people have installed their TV aerial in places such as lofts, or have used other Indoor Aerials.

The effect on that roof tiles and walls have on analogue TV signals is that the picture will degrade slightly. Making the signal slightly weaker will add a 'snow' element to the picture which is mildly irritating. The picture quality drops, but it is usually possible to make out the picture, as demonstrated here: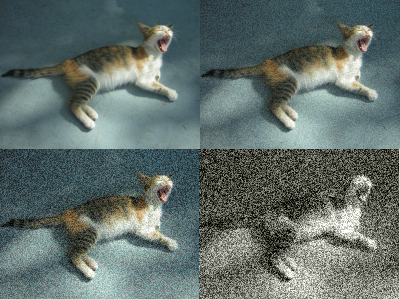 Many people have preferred this slight loss in picture quality for the perceived benefits of a loft-mounted aerial. Loft aerials are much easier and somewhat safer to install, and the aerial is shielded from wind and rain that can cause damage to rooftop aerials. In some places (such as New Towns) TV aerials have been previously banned from rooftops.

However, the BBC and others state that Freeview reception demands a roof-top aerial. The existing (pre Digital Switchover) Freeview signals are at very low power levels. The use by ITV, Channel 4 and five of "64QAM" mode for their transmission multiplexes to provide more channel choice results in a very lower chance of reception of these channels (multiplex 2 is ITV1, ITV2, ITV3, ITV4, CITV, Channel 4, More4, E4, Film4+1; multiplex A carries five, five Life and five US) with a loft-mounted aerial.

By comparison with the image above of how analogue signals look as the signal grow weaker, digital TV reception will continue to give perfect pictures and sound as the power level drops off, until suddenly the level drops below what the COFDM system can cope with. At this point the picture will become blocky and freeze whilst the sound will appear to come and go. Another tiny drop in signal level will result in no picture or sound and a message saying that "no signal is being received". As the signal can vary with weather conditions, people often find that a loft aerial will work when installed and then suddenly stop some months later.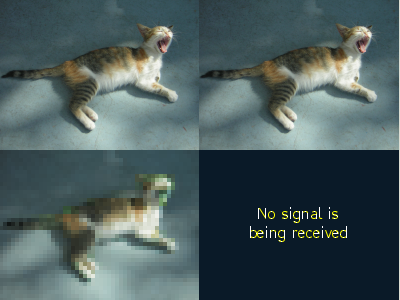 After switchover
After switchover new digital signals will replace the existing analogue and digital ones. The new digital signals will be at much higher levels that the current ones (for most people) and this will
help
with reception. However, all six multiplexes will switch to the
64QAM
mode that causes the problems indicated above.
Due to our Climate Change commitments (Kyoto Protocol), the signal levels for these new digital will not be as high as those currently used for analogue. For this reason you should not depend on the increase in power levels after switchover compensating for having a loft aerial.
Wherever possible you should use a rooftop aerial. If this is impossible, you may find that connecting your aerial to your Freeview box or integrated digital television using
satellite
-grade coaxial
cable
will compensate for the loss.
Comments
Sunday, 13 February 2011
Wednesday, 16 February 2011

I have a new 40"digital tv in the sitting room & a 22" inch tv in one bedroom, both connected to the same roof aerial,no problems getting all digital channels.Would it be advisable to connect another bedroom tv to the same aerial.

Ron's 1 post

Ron: There should usually be no problem in doing that.

Briantist's 38,844 posts
Friday, 4 March 2011

can i cornect my freeview tv to my sky+box
to get freeview chanels this would be a second tv in adifferent room

brian's 1 post

brian: No, you must connect a Freeview TV to a rooftop aerial.

Briantist's 38,844 posts
Sunday, 3 April 2011
A
Alan
10:45 PM
Northampton

Hello, I am some 25 miles from Sandy Heath and since the 30th March my loft aerial is picking up all freeview stations of C27 on my TV (which says signal strength 9/10), but none of the others. Is it reasonable for me to believe that I should be pickling up the others after 13th April?

Alan's 2 posts
Tuesday, 5 April 2011

Alan: It is doubtful.

Firstly, " NOTE: The commercial multiplexes at Sandy Heath will remain on their pre-switchover channels and powers for a period after digital switchover. SDN will then temporarily move to channel 31 (at 20kW ERP) during the third quarter of 2011, before adopting its final allocation of channel 51 in mid 2012. Arqiva A will adopt its final allocation of channel 52 in late 2011. Arqiva B will temporarily move to channel 67 (at 20kW ERP) during the third quarter of 2011, before adopting its final allocation of channel 48 in late 2011. "

Secondly, you will need a wideband aerial to receive the commercial multiplexes from Sandy Heath, and you may not have one of these.

Roof aerials are always recommended for stable Freeview reception.

Briantist's 38,844 posts

Briantist: Thanks for the info. As well as the loft Aerial , we have one roof aerial which is currently attached to 1 tv (supplying all freeview channels at the moment), so if we then have to switch the other 4 tv's to an external aerial, will this one aerial cope with 5 tv's. I am also worried that this "freeview" aerial may need replacing as it is around 5 yrs old (but was specifically installed for freeview reception)

Alan's 2 posts
M
Mike Dimmick
5:42 PM
Reading

Alan: One aerial can feed as many TVs as you need it to. Just ensure that you use proper splitter devices rather than trying to wire more than one cable into the splitter.

Whether you need an amplifier depends on the signal level you have. To feed five TVs you need a 6-way splitter, and each output will have 10 dB less signal than the original level you received. The new power levels are about 9 dB more than the old ones, so if you had reliable Freeview before switchover it's likely that there would be enough signal to avoid adding an amplifier.

There's also a reasonably good chance that your aerial was overspecified for the job and has too much gain. Splitting the signal from it could actually help!

If you do add an amplifier it's recommended that you only add enough amplification to offset the loss in the splitter.

Do note that while the PSB muxes (BBC A, D3&4, BBC B/HD) get their final channels and power levels next Wednesday, the commercial multiplexes will get their full power increases only in September, November and next year.

I'd see how the ITV1/C4/C5 PSB multiplex works out on the loft aerial, and make a decision after that. I think it's quite likely to work at least as well as the BBC multiplex. As Brian says, though, it may not work in the frequency range that the commercial multiplexes will be using.

Mike Dimmick's 2,486 posts
Sunday, 22 May 2011

I have what I'm told a digital ariel on the roof that comes into the loft and connects to a TV going into 2 rooms and then later a 3rd room. However, it seems that all the wires are just taped together and not connected to a splitter as such and I've found that one of the connections in one room shows no signal being recieved. What is the device that I can connect all these 3 TV cables to the 1 ariel feed...if someon can tell me how much it costs/from where and if easy to do ...any links to asite that shows pictures? Probably simple I know but if you guys with the knowledge can advise would be appreciated. Thxs.

JT's 1 post
Select more comments
Your comment please