Where are the public service (Freeview Light) transmitters?

Brian Butterworth published on UK Free TV
There are many TV transmitters in the UK, but only 81 of them carry all the services including the three commercial multiplexes. The other 1,036 transmitters will only carry the three public service transmitters, sometimes called Freeview Lite.

The commercial operators, SDN (originally S4C Digital Networks, now part of ITV plc) and Arqiva (originally as Crown Castle International, the privatized BBC Engineering) declined the invitation from Ofcom to extend their transmission network, see No new full Freeview transmitters.

As the transmitters can cover millions of homes down to less than 100, this means that:


In England, there are 54 full service transmitters and 583 public service transmitters, but the three-multiplex transmitters only serve 7% of the population.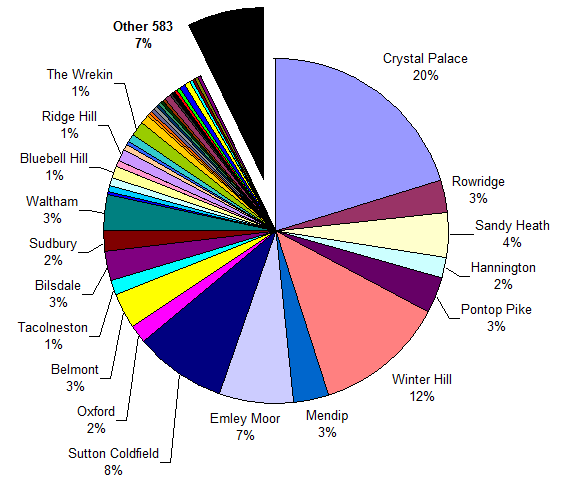 The main reason for the commercial operators not extending their networks is the uneconomic nature of these sites. It is not simply a question of being allocated frequencies by Ofcom (these were freely available to the operators) - the cost of installing the three antennas on each mast, the considerable capital expense of providing the transmission equipment and the ongoing network, power and monitoring costs.

In Scotland, the 14 main transmitters cover 85% of the population with full Freeview, but those in the mountains and islands are again uneconomic. Indeed, the Black Hill transmitter alone covers 40% of Scots.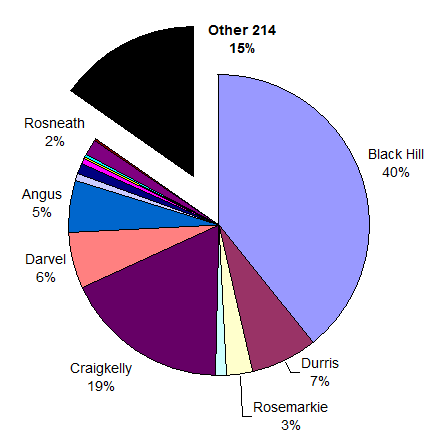 Looking to Northern Ireland, the Divis transmitter provides services to 67% of the population, with two other full service transmitters providing the next 13%. However, again 20% of the population are provided by the other 43 and these will provides just the public services.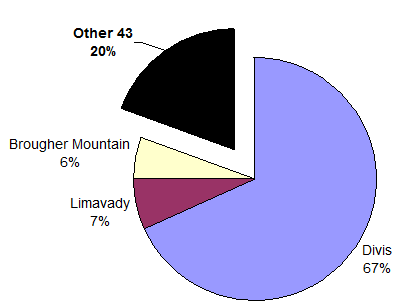 TV viewers in Wales stand the most chance - one in three - of being short of channels. Nine main transmitters cover 66% of the population, and in the mountains and valleys the other 196 transmitters cover very small populations each.




Map showing public service only areas in England, Wales, NI and Scotland.


Comments
Friday, 18 February 2011

and its channel 34...

Steven B's 6 posts

apart from that what have the romans ever done for us...:)

Steven B's 6 posts

Steven B: The analogue FIVE service on C34 from the Nottingham transmitter is going to be stronger at your location than the Lichfield preview Freeview HD service, so you may have problems.

Briantist's 38,844 posts
Thursday, 1 September 2011

Hi,
I currently receive analogue transmissions from the Wharfedale transmitter (Postcode is LS21 3PN)
I am expecting to be receiving the three PSB multiplexes after switchover (7th to 21st September)
According to your reception predictor the signal strength from Emley Moor is higher now, and after switchover than from the Wharfedale Transmitter. This seems unlikely as I have line of sight to Wharfedale, but have a steep valley side in the direction of Emley Moor & everyone around here has their aerials pointed at Wharfedale.

How accurate is your predictor? Is it worth me experimenting to discover if there is any signal available from Emley Moor? I could try buying an aerial and seeing if I can get a signal from the top bedroom window (Which faces the correct direction)
I don't really want to pay a fitter to go up on my (rather tall) 3 storey house, unless there is a reasonable chance of success.

Any comments?

Chris

chrisw's 21 posts

chrisw: See the Digital UK predictor. There is too much information that the broadcasters are keeping private, or requires substantial money to purchase, for a self-help site to provide an accurate prediction.

For the postcode you've given, DUK show a low probability of reliable reception from Emley Moor, using a reasonably high-gain aerial. For Wharfedale it's shown as 100%.

Mike Dimmick's 2,486 posts

Thanks Mick,

I had a look & ticked the "Aerial Installer" box which I hadn't done before. It looks as if there will be some signal, but probablty not useable, as I expected. I shall stick to the Wharfedale transmitter. I may have a look with a spectrum analyser once switchover has occurred to compare the signal levels from Emeley Moor & Wharfedale.

Chris

chrisw's 21 posts
Tuesday, 20 September 2011

I decided to carry out an experiment, so ordered an aerial. It is a Maxview 25 element, CAI standard 2 wideband.
I received this today, so went up into the loft and connected it up to my old CRT TV. I was able to receive the analogue channels from Emley Moor, albeit fairly noisy.

I then took up my Grundig GUD20USB3 digital box and connected that up. (This is for a kitchen TV normally). I did a full scan and was rewarded with 42 channels.
21 from Wharfedale (off the back of the beam and wrong polarisation) and 21 from BBCA on Emley Moor.

The quality report from the Grundig box varied between 2 & 4 out of 10, and there was occasional pixelation.

I will try this again later in the week after switchover and see how the other multiplexes come in after power up.

It seems to me that with a class 2 Group B aerial properly installed (professionally I might add... ) I should be able to get a reasonably reliable signal, as it should be at least 10dB up. I would also consider adding a masthead amplifier, probably worthwhile in order to overcome the cable loss.

Chris

chrisw's 21 posts
Thursday, 20 October 2011

I live in otley, postcode LS21 1DE and receive digital television from the Clifton mast.
On my new TV I only receive 35 channels.
Can you explain why this is please

Val Davies's 1 post

Val Davies: Please read the article.

Briantist's 38,844 posts
Tuesday, 21 February 2012

My postcode is PH1 1PG and I get limited freeview channels from Perth transmitter. I understand that somehow in 2012 I should be able to tune to the Angus transmitter which carries many more channels. Is this true?

John's 3 posts
Select more comments
Your comment please