New Astra 1N satellite to offer more UK-focused capacity - and soon

Brian Butterworth published on UK Free TV
SES Astra, the Luxembourg-based company that owns and operates the Astra satellite fleet used in the UK by Sky and the free-to-air broadcasters behind Freesat, has successfully launched the 5300kg ASTRA 1N satellite from Kourou, French Guiana on 6th August 2011.

This satellite will be moved into the 28.2 degrees east orbital position above the equator, where it will join the Astra 2 satellites. This position will allow its transmissions to be received by anyone who uses Sky or Freesat.

This additional capacity will increase the number of satellite transponders by 104.

Of particular note to free-to-air TV satellite viewers, the satellite has a "UK spot beam", which mirrors that of the Astra 2D satellite.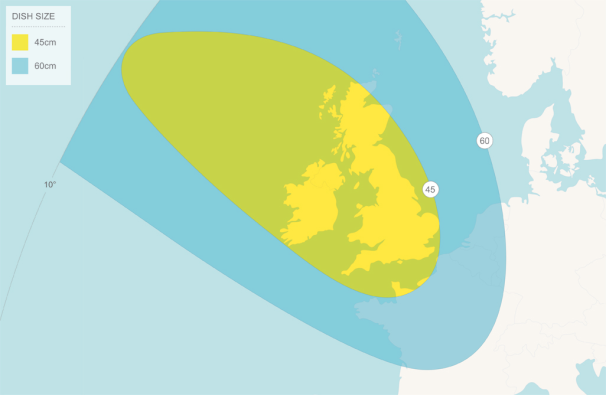 Whilst it can be argued (see Karen Murphy scores against the Premier League and Sky) that EU Television Without Frontiers directive allows public service broadcasters to carry their services on pan-European satellite, international rights holders prefer free-to-air channels to use the tight beams to restrict the coverage to a target country.

As all the Astra 2D transponders have been full for some years, the extra capacity on Astra 1N will allow for expansion.

Speculating, this might include:


Space for BBC TWO HD, which will require four HD stream to provide the English, Welsh, Scottish and NI variations.
Space for Channel 5 to move to have all of their advertising regions free-to-air, and perhaps 5* and 5USA.
Space for all ITV1 HD news regions to be on Freesat.
Comments
Wednesday, 10 August 2011

jb38: Channel 4 is is on the Eurobird 1 satellite, which are 0.3 degrees out (which is about 220km) from the Astra cluster. A dish that is 100% aligned to 28.2 east will not be 100% aligned to 28.5 east.
It is therefore necessary to actually adopt a position of 28.35 degrees east, which is a compromise position to get the best possible signal for all four birds, Astra 2A, 2B, 2D and Eurobird 1.

Briantist's 38,844 posts

darre: Perhaps you might like to email Richard Desmond at Channel 5 and letting him know?

Briantist's 38,844 posts

Ian: Also, Astra 2C is at 19.2 east - ASTRA 2C - SES ASTRA

Briantist's 38,844 posts

Peter Henderson: Yes, it is speculation of course...

Briantist's 38,844 posts
Friday, 12 August 2011

HI,Retune day is fast approaching for Sutton coldfield.What do you do if you are not at home for the first retune and not back till after second tune.Will the tune you do after second retune automatically correct the missed first tune?Thanks

Bob Hughes's 1 post
Saturday, 13 August 2011

Bob Hughes: It doesn't matter when you do a retune; after the frequencies used by the multiplexes have been changed you will simply have to retune when it is convenient before you are able to view the channels carried on them.

KMJ,Derby's 1,811 posts
Monday, 15 August 2011

Bob Hughes,
The first part of retune only matters IF they are moving a set of Mux to another channel (as they did with Sudbury)on a pre switch Freeview transmitter.
If no channels are moving until the 2nd date then I think you will be ok

Tracy's 9 posts

Tracy: Actuallly at *all* Full Freeview transmitters, multiplex 1 is replaced with BBCA on a different frequency, it is always necessary to retune on DSO1 unless you don't watch BBC1, 2, 3, News or CBBC.

The BBCA multiplex is always on the old BBC TWO analogue frequency, except where is isn't, where it's one of the other three channels (ITV, BBC One, C4) becomes BBCA at switchover and that channel swaps to the BBC TWO analogue frequency until DSO2.

Briantist's 38,844 posts
kB Aerials Sheffield
8:10 PM

Sheffield Transmitter BBC moved from CH63 to CH27 the old analogue BBC 2 slot and the ITV mux jumped to the PRE bbc Slot of CH63

BOB - I assume your on holiday whilst switchover happens hence not been able to tune on the designated days

No Problem just retune when you get back your not going to miss anything --- unless you have set a hard disk recorder to record while your away

Keith KB aerials


kB Aerials Sheffield's 274 posts
Saturday, 27 August 2011

If you tune a Freesat box to a Scottish postcode you only get STV in SD on channel 103 and not even ITV1 HD. If you tune your Freesat box to Non Freesat you can get STV HD, so if this STV HD is not a feed for Freesat is it a feed for Freeview in Scotland?

Iain Davies's 351 posts
Select more comments
Your comment please