Local TV on Freeview - locations announced

Brian Butterworth published on UK Free TV
Through detailed planning work and analysis of areas with good geographic interleaved spectrum coverage, Ofcom has identified 65 locations available for local TV broadcast services. These locations are:


Aberdeen
Ayr including Kilmarnock
Bedford including Sandy
Belfast including Lisburn
Birmingham including Greater Birmingham area, part of Wolverhampton, Walsall, Dudley
Brighton and Hove
Bristol
Burnley including Nelson, Colne
Cardiff including Newport, Bridgend
Carlisle
Derry / Londonderry
Dover including Parts of Folkestone
Edinburgh including Dunfermline
Elgin
Falkirk including Stirling
Glasgow including East Kilbride, Motherwell, Paisley
Gloucester including Cheltenham
Greenock including Dunoon
Grimsby including Parts of Kingston upon Hull
Guildford including Parts of Woking
Haywards Heath including Heathfield, Uckfield
Hemel Hempstead including Parts of St Albans
Lancaster including Morecambe, Heysham
Limavady including Parts of Ballymoney, parts of Coleraine
Liverpool including St Helens, Widnes, Wigan, Wirral
London including Greater London area
Maidstone
Manchester including Bolton, Bury, Oldham, Rochdale, Salford, Stockport
Middlesbrough including Hartlepool, Stockton on Tees
Mold including Denbigh, Ruthin
Newcastle including Gateshead, South Shields, Sunderland
Norwich
Oxford including Abingdon, Didcot
Plymouth
Preston including Blackpool
Reading
Reigate including parts of Crawley
Scarborough
Shrewsbury
Southampton including Eastleigh, Fareham, parts of Isle of Wight, parts of Portsmouth, Winchester
Stoke on Trent including Newcastle under Lyme
Stratford upon Avon
Swansea including Llanelli
Telford
Tonbridge including Parts of Tunbridge Wells
York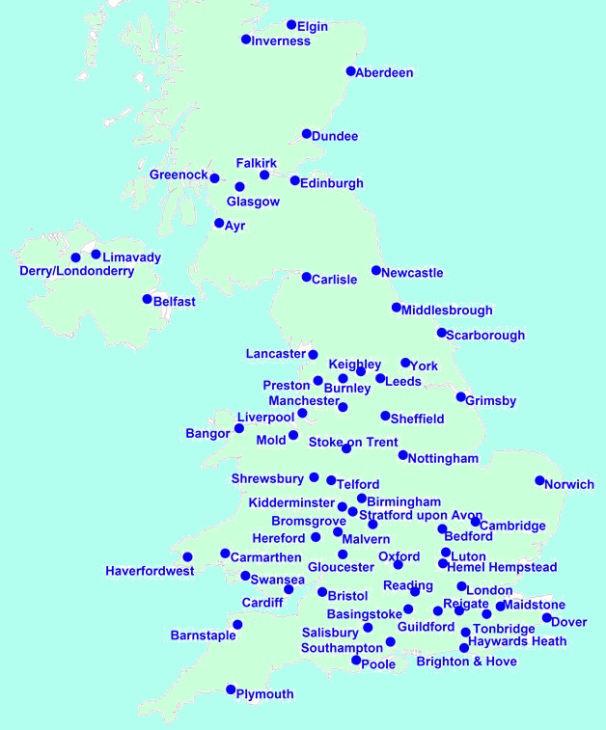 The government wants your views

If you can say, in than two pages, why your town should be chosen to have one of the first local TV on Freeview services, you are asked to answer the following two questions.

Question 1: Why do you think your town or city (if it is shown above) should be among the first of those selected to bid for a local TV licence?

Question 2: We would like to understand what approach potential the multiplex operator for local TV (MuxCo) bidders would take to the locations in this paper in order to make their business models work. Which locations are necessary to ensure a successful MuxCo model?

Answers to local.tv@culture.gsi.gov.uk.

More information:


Comments
Tuesday, 9 August 2011

Thanks for ignoring Leicester OFCOM

Ian's 497 posts

Infact, thanks for ignoring the East midland.

Ian's 497 posts

There's a new list of proposed channel numbers and maps in Ofcom's PDF at http://maps.ofcom.org.uk/….pdf .

Not convinced about using the same channel on two different antennas at Hannington, and three different at Winter Hill!

Mike Dimmick's 2,486 posts

Mike: the report does discuss "petalling":

In a few cases, the coverage that could be achieved by a transmitter is very extensive and serves several cities. An example is the Winter Hill transmitter that serves most of the Granada ITV region in the north-west of England. In these cases, we have modelled the
potential targeting of coverage using a technique we have named petalling. This enables specific targeting of distinct locations within the transmitter coverage area. The advantage of using petalling is that separate local services can be carried in each petal. In the case of Winter Hill, separate petals could provide different local TV services for Manchester, Liverpool and Preston.

Never mind petalling, I was wondering if this seventh mux could get us in Scotland our BBC Radio stations back on Freeview, at least for those of us covered by the main transmitters... I'd rather the Beeb dumped BBC Alba or switched it to this seventh mux but I don't suppose they will - because then the Gaelic speakers in the Western Isles wouldn't get it!

John Robinson's 43 posts

Just noticed that Preston will be covered by Winter Hill Petal 3 on channel 0. I didn't know there was a channel zero.

John Robinson's 43 posts

Ian: Nottingham is in the East Midlands.

John Robinson: Looks like that paragraph has been written by some political junkie, not someone technical. Very, very careful aerial design and positioning is going to be necessary to avoid co-channel interference on the edges of the petals, between the signal transmitted on each antenna for each sector. Of course they may have taken this into account and not expect any real coverage in the edges of the petals, note that The Wrekin petal A and 2 are on different frequencies.

There is no channel zero, someone forgot to fill it in. Given what they've done elsewhere I assume it will be C56 as on the other two petals from Winter Hill.

Mike Dimmick's 2,486 posts

Mike Dimmick: Confusingly enough, there *is* a Channel Zero Channel Zero • Discover a whole new TV experience it is overnight-delivered text system for some boxes which has a Freeview LCN of 306.

On the boxes it appears on, it appears at position 0, just above BBC One at the top of the EPG.

Briantist's 38,844 posts

Briantist: True, but that's confusing UHF channels with Logical Channel Numbers. The document clearly means UHF channel numbers.

Ian: MATV is still licensed in Leicester under a Restricted Television Service Licence, though there are reports that it has now shut down. It's possible that they will be offered a chance to bid for an interleaved frequency, as an existing RTSL for Leicester.

If it is still running, it would be broadcasting on C68 from a mobile phone tower near Ratcliffe College - mb21 - The Transmission Gallery .

Mike Dimmick's 2,486 posts
Wednesday, 10 August 2011

Nottighan in one city! what about the rest of us? I see most of East anglia has been ignored as well.

Ian's 497 posts

Ian: It's all about what is achievable from the existing main transmitter network. That leads to some weird locations. Burnley, pop. 73,000, because it's off the existing 6-mux Pendle Forest transmitter; Mold, pop. 9,568, from Moel-Y-Parc, being the only town that could be covered. I can't see a town of < 10,000 people having a viable TV service!

In fact I can't even tell why Pendle Forest was included in the original 81 DTT sites, as it doesn't really cover any major population centre not served by Winter Hill. It was quite powerful pre-DSO, actually no power increase on the first four muxes at DSO; perhaps it filled a hole in the original Winter Hill coverage, before the equalization programme of 2000?

Again, Cambridge and Norwich are proposed locations. The south and east edges of the country are hard to serve anyway with overseas co-ordination required, Ipswich is likely too far from Sudbury and the transmission would head out toward Belgium and the Netherlands rather than being contained.

The mucking about with many DSO steps at Waltham, Sandy Heath and Sudbury indicates what a problem the terrain of eastern England is. It just may not be possible to find a free channel providing enough space for a Derby service off Waltham. Using relays has obviously gone in the 'too expensive' bucket.

Mike Dimmick's 2,486 posts
Select more comments
Your comment please