10th April 2013 retune for Winter Hill, Keighley transmitters and relays

Brian Butterworth published on UK Free TV
From 6am on 10th April 2013, several multiplexes will change their transmission frequencies.

Notably the main transmitters will make changes. This includes the WINTER HILL transmitter, where the BBCA multiplex (including 1 BBC One North West, 2 BBC Two England, 7 BBC Three, 9 BBC Four, 70 CBBC Channel,71 CBeebies, 80 BBC News, 81 BBC Parliament, ) will move from C62- to C50 and the ArqivaA multiplex (11 PICK TV, 12 Dave, 17 Really, 29 E4+1, 32 Movie Mix, 46 Challenge, 48 Food Network, 62 TV Stars, 82 Sky News, 87 Community Channel,) will move from C61- to C49.

On the KEIGHLEY, BBCA will move from C61 to C49.

See below for a full list of transmission masts that will make changes.

When you now rescan, you MUST do a "first time installation" or "factory reset" scan, not an "add channels". Do the procedure you did on September 30th 2009. If you can't recall what this was, please see List of manuals for Freeview retune, or try the generic clear and rescan procedure.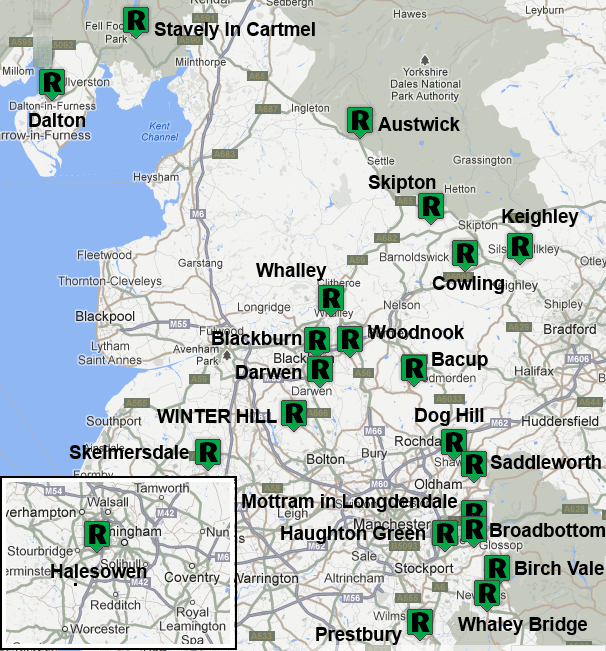 Please note that the relay transmitters will take some time (between 11am and 4pm) to come back to full service:

Austwick: PSB2 C49 to C39
Bacup: PSB3 C50 to C40
Birch Vale: PSB3 C50 to C40
Blackburn: PSB3 C50 to C40
Broadbottom: PSB3 C49 to C39
Cowling: PSB3 C49 to C39
Dalton: PSB3 C50 to C40
Darwen: PSB2 C49 to C39+
Dog Hill: PSB3 C50 to C40
Halesowen: PSB2 C61 to C49
Haughton Green: PSB3 C50 to C40
KEIGHLEY: COM6 C60 to C60- PSB1 C61 to C49
Mottram in Longdendale: PSB3 C50 to C40
Prestbury: PSB3 C50 to C40
Saddleworth: PSB2 C49+ to C39+
Skelmersdale: PSB1 C51 to C46 PSB2 C48 to C43 PSB3 C52 to C40
Skipton: PSB1 C49 to C39+
Stavely In Cartmel: PSB3 C50 to C40
Whaley Bridge: PSB2 C49 to C39
Whalley: PSB3 C50 to C40
WINTER HILL: COM5 C61- to C49 PSB1 C62- to C50
Woodnook: PSB2 C49 to C39

The changes at WINTER HILL will cause the following relays to have no PSB1 service for some time:

Backbarrow, Barrow Town Hall, Bidston, Bollington, Brinscall, Brook Bottom, Burbage, Buxton, Cartmel, Chaigley, Chatburn, Chinley, Congleton, Delph, Elton, Far Highfield, Glossop, Haslingden, Ladder Hill, Lancaster, Langley, Lees, Littleborough, Macclesfield, Manchester Hulme, Melling, Middleton, Millom Park, Moss Bank, New Church, Norden, North Oldham, Oakenhead, Over Biddulph, Parbold, Pendle Forest, Penny Bridge, Portwood, Ramsbottom, Ribblesdale, Romiley, Roose, Stockport, Storeton, Trawden, Urswick, Walton Le Dale, Wardle, West Kirby, Whitewell and Whitworth.

The changes at KEIGHLEY will cause loss of PSB1 for some time at the relays at:

Keighley Town, Oxenhope, Skipton Town and Sutton In Craven

If you get Freeview from these masts - DO NOT retune your Freeview equipment.
Comments
Monday, 22 April 2013

Since the Winter Hill digital update in April 2013 I have lost all the BBC channels. I am located at postcode SK12 1NT. I have tried restoring my TV to factory settings and then re tuning but to no avail. The TV and ariel etc worked fine before the update. My Tv is a Technica
Thank you

Peter's 4 posts

Peter: If you are using a communal aerial system it may need adjusting to allow the new BBC frequency through.

If you have two aerials facing different transmitters and they are connected together then this may be an issue with new BBC frequency. For example, one on Winter Hill and one on Moel-y-Parc for Welsh programming.

Dave Lindsay's 5,724 posts

Hi Dave, it is not a communal aerial as I mentioned nothing has been changed in my setup since before the update, but once I retuned the BBc channels were lost, never had Amy problem before. Will I have to get the aerial adjusted or can I try and tune manually, if so where will I get the BBC? Thanks for responding

Peter's 4 posts

Peter: If there is manual tuning on the receiver then you need to tune to UHF channel 50.

What about Pick TV, as that moved channel as well? It is now on C49.

Dave Lindsay's 5,724 posts

Sorry tried searching for channel 50 but nothing found

Peter's 4 posts

Channel 49 shows as jewellery but not being received

Peter's 4 posts
B
brian lewis
7:59 PM
Grange-over-sands

Prior to the Winter Hill changes we seemed to receive a full set of EPG info, certainly including "BBCA". We now only have EPG info for the "D3+4" multiplex channel, despite several retunes of our Bush freeview digi box following the generic clear and rescan procedure. Our post code is LA117AD. What else can we do?

brian lewis's 1 post

brian lewis: Digital UK suggests that reception from Kendal transmitter may be possible at your location. This carries ITV Border, so maybe it is tuning to Kendal for that and that is the reason that the EPG doesn't populate for it.

Bring up the signal strength screen on ITV. For Winter Hill it will say that it is tuned to C59 (778MHz) and for Kendal it is C53 (730MHz).

If it is tuned to Kendal for D3&4 then the only possible explanation I can give you is that it will find it before it finds Winter Hill's D3&4.

If this is the case then either you may be able to use manual tuning or else resort to some tricky maneuver with the aerial plug so as to have it out for Kendal and in for Winter Hill.

Dave Lindsay's 5,724 posts

Peter: Channel 49 the Jewellery Channel refers to the service which normally appears at position 49 in the channel list. It is carried on the SDN multiplex. When doing a manual tune for C49 (mux ArqA) or C50 (mux BBCA): this refers to the UHF frequency channel that is typed into the tuning menu. Autoscan begins at UHF C21 and looks at all frequencies in turn up to UHF C68, stopping where a signal is detected and if the strength and quality is sufficient to identify the services carried these are entered into the channel list usually in "logical channel number" positions.

KMJ,Derby's 1,811 posts

brian lewis: Just to add, that the terrain indicator suggests that you have a clear line of sight to the Lancaster full service (all channels) transmitter located at just under 9 miles away on a bearing of 139 degrees, the aerial being mounted vertically. Lancaster's channels being / (BBC) Ch27 - (ITV) Ch24 - (HD) Ch21 - (ITV3 etc) Ch25 - (Pick TV etc) Ch28 - (Film 4 etc) Ch22

jb38's 7,179 posts
Select more comments
Your comment please