10th April 2013 retune for Winter Hill, Keighley transmitters and relays

Brian Butterworth published on UK Free TV
From 6am on 10th April 2013, several multiplexes will change their transmission frequencies.

Notably the main transmitters will make changes. This includes the WINTER HILL transmitter, where the BBCA multiplex (including 1 BBC One North West, 2 BBC Two England, 7 BBC Three, 9 BBC Four, 70 CBBC Channel,71 CBeebies, 80 BBC News, 81 BBC Parliament, ) will move from C62- to C50 and the ArqivaA multiplex (11 PICK TV, 12 Dave, 17 Really, 29 E4+1, 32 Movie Mix, 46 Challenge, 48 Food Network, 62 TV Stars, 82 Sky News, 87 Community Channel,) will move from C61- to C49.

On the KEIGHLEY, BBCA will move from C61 to C49.

See below for a full list of transmission masts that will make changes.

When you now rescan, you MUST do a "first time installation" or "factory reset" scan, not an "add channels". Do the procedure you did on September 30th 2009. If you can't recall what this was, please see List of manuals for Freeview retune, or try the generic clear and rescan procedure.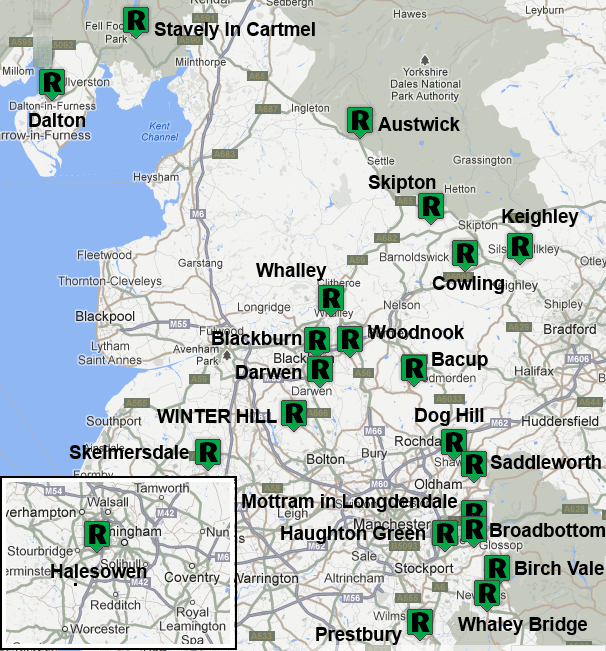 Please note that the relay transmitters will take some time (between 11am and 4pm) to come back to full service:

Austwick: PSB2 C49 to C39
Bacup: PSB3 C50 to C40
Birch Vale: PSB3 C50 to C40
Blackburn: PSB3 C50 to C40
Broadbottom: PSB3 C49 to C39
Cowling: PSB3 C49 to C39
Dalton: PSB3 C50 to C40
Darwen: PSB2 C49 to C39+
Dog Hill: PSB3 C50 to C40
Halesowen: PSB2 C61 to C49
Haughton Green: PSB3 C50 to C40
KEIGHLEY: COM6 C60 to C60- PSB1 C61 to C49
Mottram in Longdendale: PSB3 C50 to C40
Prestbury: PSB3 C50 to C40
Saddleworth: PSB2 C49+ to C39+
Skelmersdale: PSB1 C51 to C46 PSB2 C48 to C43 PSB3 C52 to C40
Skipton: PSB1 C49 to C39+
Stavely In Cartmel: PSB3 C50 to C40
Whaley Bridge: PSB2 C49 to C39
Whalley: PSB3 C50 to C40
WINTER HILL: COM5 C61- to C49 PSB1 C62- to C50
Woodnook: PSB2 C49 to C39

The changes at WINTER HILL will cause the following relays to have no PSB1 service for some time:

Backbarrow, Barrow Town Hall, Bidston, Bollington, Brinscall, Brook Bottom, Burbage, Buxton, Cartmel, Chaigley, Chatburn, Chinley, Congleton, Delph, Elton, Far Highfield, Glossop, Haslingden, Ladder Hill, Lancaster, Langley, Lees, Littleborough, Macclesfield, Manchester Hulme, Melling, Middleton, Millom Park, Moss Bank, New Church, Norden, North Oldham, Oakenhead, Over Biddulph, Parbold, Pendle Forest, Penny Bridge, Portwood, Ramsbottom, Ribblesdale, Romiley, Roose, Stockport, Storeton, Trawden, Urswick, Walton Le Dale, Wardle, West Kirby, Whitewell and Whitworth.

The changes at KEIGHLEY will cause loss of PSB1 for some time at the relays at:

Keighley Town, Oxenhope, Skipton Town and Sutton In Craven

If you get Freeview from these masts - DO NOT retune your Freeview equipment.
Comments
Tuesday, 23 April 2013

why cant we get ITV channels here in Andreas on the isle of man, we have a booster on the aerial.?

chris's 1 post

chris: I don't understand the question. You ask about "ITV channels" when there is only one "ITV". Are you referring to ITV, ITV2, ITV3 and ITV4. If you have your aerial directed to one of the transmitters on the island then you will have ITV and ITV2. You won't have ITV3 and ITV4 because they are carried on the Commercial multiplexes which aren't available from those transmitters. No amount of boosting will make them appear!

If your aerial points to a transmitter on the UK mainland or Northern Ireland then you may be able to receive the Commercial channels. However, you will need to say which transmitter your aerial is directed to. Your location, preferably in the form of postcode or nearby postcode would allow prediction of transmitters that might be available. Knowledge of the direction and polarisation (horizontal or vertical) of your aerial would probably allow us to deduce which transmitter you are using.

Dave Lindsay's 5,724 posts

chris: If you are using the Caldbeck transmitter for your Freeview reception (the use of an amplifier suggests that you could be receiving the service long distance) it is worth noting that the COM muxes share the same frequencies with the COM muxes at Divis in Northern Ireland. Where both signals are present they could effectively block reception from either transmitter. In fact the signal from Divis could be the stronger of the two in some parts of your locality, in such cases it might be worth trying an aerial pointed at Divis to see if a usable signal is available.

KMJ,Derby's 1,811 posts
Wednesday, 24 April 2013

MikeP
Thanks - really appreciated! My aerial is at least 19 years old and is in the loft, so is at least 1m lower than many others in the area. (Obviously, I can't see the other loft aerials!) There is no obvious colour code on it, so replacing it with a Group E aerial would seem a good starting point.

Julian's 3 posts

Julian
Glad to be of some help. A loft mounted aerial tends to receive slightly less signal than an externally mounted one due to absorption by the tiles, especially when they are wet. It being 1m lower is of little consequence except in critically difficult locations. If you have a good chimney stack in good condition and accessible by ladders then a good aerial contractor should be able to mount a new Group E aerial externally. Without actually knowing the local reception conditions I couldn't guarantee anything but technical experience suggests it should at least help and be suitable for the future unless 'they' (Ofcom, et al) decide to change their plans.

MikeP's 3,056 posts
Monday, 29 April 2013

I live at ch5 4bg recently when I try to retune 2 of the TV's in bedrooms I get bbc northwest and itv wales it has worked perfectly for years there has been no movement of aerial. also on the retune both TV's stop at channel 58 and wont continue.. main tv retunes fine. Is a software update needed for TV's they are about 4-5 yrs old

thanks wayne

wayne's 1 post

wayne: When you run the automatic tuning scan, start it off with the aerial unplugged and plug in at 56%.

Dave Lindsay's 5,724 posts
Friday, 3 May 2013

Since April I have: -
Sky - no problem
BT Vision (son works for them) - only got poor reception and no BBC channels... even after a factory re-set.
2 other digital TVs - virtually nothing since factory re-set on Toshiba Regza - not tried the Sony as so frustrated with the others!

Aerial on roof
Splitter/booster in loft
M34 area

Do we -
1. Get an engineer to look at the aeriel (that was working just fine before April)
2. Buy filters for all but the Sky system?

And finally - to whom do I complain about the cost it entails if either of the above are required?

Thanks for any help or advice to help me overcome my current severe frustration!



Sue's 2 posts

Sue: If you have not done anything with the Sony with regards retuning since 10th April then it should be as before. Only PSB1 (BBC One etc) and COM5 (Pick TV etc) have changed channels, so ITV, ITV3 and Film4 (among others) should still be present. If they are not then you have another issue unconnected with the change of 10th April.

Where does the terrestrial aerial feed go? Does it go into the Sky box and out then into the amplifier in the loft so the Sky box is available to all TVs? Or does it feed directly into the amplifier?

Is the amplifier connected directly to mains electricity? That is, does a wire come from it whose other end is plugged into the mains? If not, is there a separate power supply for the amplifier?

Dave Lindsay's 5,724 posts

Sue: I should add that the issue isn't likely to be one where a filter will be required. There are 800MHz 4G tests, but none of these are anywhere near you and so 4G is not a possible cause.

Dave Lindsay's 5,724 posts
Select more comments
Your comment please