10th April 2013 retune for Winter Hill, Keighley transmitters and relays

Brian Butterworth published on UK Free TV
From 6am on 10th April 2013, several multiplexes will change their transmission frequencies.

Notably the main transmitters will make changes. This includes the WINTER HILL transmitter, where the BBCA multiplex (including 1 BBC One North West, 2 BBC Two England, 7 BBC Three, 9 BBC Four, 70 CBBC Channel,71 CBeebies, 80 BBC News, 81 BBC Parliament, ) will move from C62- to C50 and the ArqivaA multiplex (11 PICK TV, 12 Dave, 17 Really, 29 E4+1, 32 Movie Mix, 46 Challenge, 48 Food Network, 62 TV Stars, 82 Sky News, 87 Community Channel,) will move from C61- to C49.

On the KEIGHLEY, BBCA will move from C61 to C49.

See below for a full list of transmission masts that will make changes.

When you now rescan, you MUST do a "first time installation" or "factory reset" scan, not an "add channels". Do the procedure you did on September 30th 2009. If you can't recall what this was, please see List of manuals for Freeview retune, or try the generic clear and rescan procedure.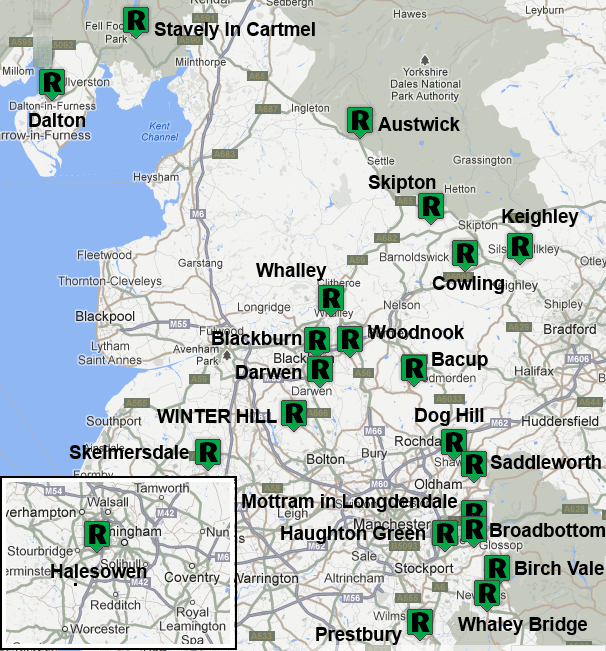 Please note that the relay transmitters will take some time (between 11am and 4pm) to come back to full service:

Austwick: PSB2 C49 to C39
Bacup: PSB3 C50 to C40
Birch Vale: PSB3 C50 to C40
Blackburn: PSB3 C50 to C40
Broadbottom: PSB3 C49 to C39
Cowling: PSB3 C49 to C39
Dalton: PSB3 C50 to C40
Darwen: PSB2 C49 to C39+
Dog Hill: PSB3 C50 to C40
Halesowen: PSB2 C61 to C49
Haughton Green: PSB3 C50 to C40
KEIGHLEY: COM6 C60 to C60- PSB1 C61 to C49
Mottram in Longdendale: PSB3 C50 to C40
Prestbury: PSB3 C50 to C40
Saddleworth: PSB2 C49+ to C39+
Skelmersdale: PSB1 C51 to C46 PSB2 C48 to C43 PSB3 C52 to C40
Skipton: PSB1 C49 to C39+
Stavely In Cartmel: PSB3 C50 to C40
Whaley Bridge: PSB2 C49 to C39
Whalley: PSB3 C50 to C40
WINTER HILL: COM5 C61- to C49 PSB1 C62- to C50
Woodnook: PSB2 C49 to C39

The changes at WINTER HILL will cause the following relays to have no PSB1 service for some time:

Backbarrow, Barrow Town Hall, Bidston, Bollington, Brinscall, Brook Bottom, Burbage, Buxton, Cartmel, Chaigley, Chatburn, Chinley, Congleton, Delph, Elton, Far Highfield, Glossop, Haslingden, Ladder Hill, Lancaster, Langley, Lees, Littleborough, Macclesfield, Manchester Hulme, Melling, Middleton, Millom Park, Moss Bank, New Church, Norden, North Oldham, Oakenhead, Over Biddulph, Parbold, Pendle Forest, Penny Bridge, Portwood, Ramsbottom, Ribblesdale, Romiley, Roose, Stockport, Storeton, Trawden, Urswick, Walton Le Dale, Wardle, West Kirby, Whitewell and Whitworth.

The changes at KEIGHLEY will cause loss of PSB1 for some time at the relays at:

Keighley Town, Oxenhope, Skipton Town and Sutton In Craven

If you get Freeview from these masts - DO NOT retune your Freeview equipment.
Comments
Monday, 20 May 2013

I live in bl7 0nj and have direct view of Winter Hill transmitter from my house. The aerial is in the loft and is at least 14 years old. I have Freeview boxes connected to my upstairs and downstairs TVs and they have worked fine for many years. In the past couple of weeks however, reception on BBC channels has deteriorated - most of the time, there is either no signal, or the picture is heavily pixelated (NB BBC reception was OK to start with following the April re-tune). I have tried retuning using factory reset and the BBC channels are picked up and start off with great reception, but after a few minutes the pixelating begins again and the channel soon becomes unwatchable. This said, there are still some occasions when the reception is fine eg I was able to watch the BBC news channel in the middle of the night a couple of nights ago! ITV and other channels such as Dave and Challenge are fine. Any suggestions - I can't understand the sudden change in quality of BBC reception or the fact that sometimes it is OK. Thanks

K Smith's 2 posts

K Smith: Ensure that BBC One is tuned to UHF channel 50, which is that of Winter Hill, by viewing the signal strength screen.

Failing that perhaps the signal level is overwhelming the tuner and you need some attenuation:

Freeview signals: too much of a good thing is bad for you | Digital switchover | ukfree.tv - 10 years of independent, free digital TV advice

If using a powered splitter to distribute the signal from the aerial, try using a non-powered splitter instead.

Dave Lindsay's 5,724 posts

Dave Lindsay: Thanks for response. Will look into both suggestions.

K Smith's 2 posts
Saturday, 1 June 2013

Hi thanks for the info, I suffered the dr out of the signal and retuned after approx a week of poor signal strength. Unfortunately the BBC channels have gone again but all others remain? Any suggestions?

Thanks JEREMY

Jeremy's 1 post
Sunday, 2 June 2013

Jeremy: The first few words on your posting would suggest that you may have asked a question elsewhere, but as the location of is unknown then more info is required, this preferably being in the form of a post code or one from nearby such as a shop / post office.

jb38's 7,179 posts
Friday, 6 September 2013

Where has Film 4 gone (Winter Hill)? I've just come out of hospital and channel 15 carries a message saying F4 has moved but, doG knows why, not where to. Have there been other changes?
Thanks

Michael's 41 posts

Michael: Film4 has moved multiplex (from COM6 to PSB2). You just need to do a full retune. Film4+1 is now on Freeview 45.


Briantist's 38,844 posts

Have you missed the launch of 20 Drama and 61
True Entertainment as well?

Briantist's 38,844 posts
Friday, 20 September 2013

We live near the Romiley relay transmitter and the Freeview channel choice is very poor.

A selection of BBC and ITV channels and that is it..

Can this relay be upgraded to provide the full Freeview service and if it can why hasnt it been done...

Nigel's 1 post
Select more comments
Your comment please