Freesat is "fastest growing TV platform" and "outgrows Pay-TV"

Brian Butterworth published on UK Free TV
Here are the headline figures from Freesat:


Freesat added c.150,000 homes in the last 12 months, more than both Sky and Virgin Media combined
This included 29,000 new Freesat homes in latest quarter, Jan-Mar 2013
51% of Freesat customers switched from Pay-TV in 2012/13, the majority from Sky
Freesat now in 1.7 million homes, c.6% of UK homes
Total unit sales of 3.2 million since launch five years ago
Gross retail UK sales to date of £1.2 billion with particularly strong sales of the new hybrid free time box.
Freesat remains the UK's fastest growing established TV platform, and continues to outgrow Pay-TV rivals.
Freesat say that:
According to Freesat's own customer research (conducted by YouGov in April 2013), 51% of homes that joined the free TV service in 2012/13 were from Pay-TV rivals. The research also indicated that just over 25% of homes are considering changing TV service provider in 2013, and of these, 60% are being driven by the desire to
save
money.
Emma Scott, Freesat's Managing Director commented: "Freesat is truly a TV platform of choice. Our consistently positive results demonstrate fantastic growth and a strong appetite for high
quality
, good value TV, in a challenging economic environment. The success of our
free time
service with its cutting edge TV Guide and on-demand
services
including
BBC iPlayer
, ITV Player and YouTube, gives yet more sensible reasons to switch to Freesat.
"Everyone of us across the UK is continually reassessing how we spend our money, and with 79% of viewing across all platforms, including pay, going to free
channels
, and 52% going to the top 5 channels – having a monthly TV
subscription
just doesn't make sense for most people."
Freesat has now sold 3.2 million units, far exceeding original sales projections and taking total gross retail UK sales to £1.2 billion since launch in May 2008. Freesat will grow the
free time
features over time, including a remote record app for smart phones and tablets as well as the introduction of additional movie and music services.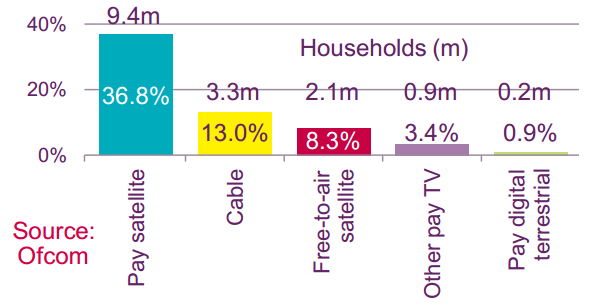 It's worth comparing the figures from Freesat with those from
Ofcom
(from
Digital Television Update Chart Pack for Q4 2012 April 2013
).
The Ofcom figures are for only 97.1% of UK, as they don't include the 1.8 million people in Northern
Ireland
.
Ofcom show 2.1m Free-to-Air
satellite
homes, which is a combination of Freesat's 1.7 million and 0.4m Freesat-from-Sky homes.
Comments
Saturday, 30 May 2020

I like this website because so much useful stuff
on here :D.

F Burn Keto's 1 post
Thursday, 18 June 2020

Lovely blog! I am loving it!! Will come back again. I am bookmarking
your feeds also

کلیک کنید's 1 post
Monday, 29 June 2020

You have noted very interesting details!

ps nice web site.

Cylophin Rx's 1 post
Thursday, 2 July 2020

You got a very superb website, Sword lily I discovered it through yahoo.

BioLife Keto Pills's 1 post
H
http://bloodbalanceadvancedformula.net/
5:37 PM

Thanks for finally writing about >Freesat is "fastest growing TV platform" and "outgrows Pay-TV" | free and easy <Loved it!

http://bloodbalanceadvancedformula.net/'s 1 post
Tuesday, 7 July 2020

Just wanna state that this is very helpful, Thanks for taking your time to write this.

BioLife Keto's 1 post
Friday, 10 July 2020

Unique makers market the extracts in glass vials or bottles that change
in size and volume. An bottle includes a dropper and is of approximately 15ml volume.
It is likewise the most favorite way of quantifying the dose of those potent
extracts, although the dropper isn't accurate and appropriate.
As a result of effective temperament of the extracts, so it's highly recommended to
begin with little dosages also steadily scale it together with time.

For instance, one gram (2 capsules) will be a perfect dosage for first-time consumers of the
golden capsule. For golden liquid, one particular drop is
the appropriate level for those beginners and other individuals.
Most users believe two drops of the liquid extract to be quite a dose that
is effective.


OPMS gold has become easily the breed of Kratom. The use of accurate dosage gives you the ability
to take advantage of their health and benefits which the solution or service has to offer.
Remember to search around and identify a trustworthy dealer who sells the product in a acceptable price tag.

This way you will have a high likelihood of getting the solution.

OPMS Gold's 1 post
Tuesday, 28 July 2020

I can't work out how Virgin has less than zero homes owners.
Perhaps it's so expensive, they can't afford to have a home and Virgin media!

Mark's 368 posts
Wednesday, 29 July 2020

If you want to get a good deal from this piece of writing then you
have to apply such methods to your won web site.

ratanovy nábytok's 1 post
Wednesday, 12 August 2020

Freesat badly needs to get the Channel 4 HD and All4 problems sorted out.

Between that, and numerous reported problems with the new Arris Freesat recorders, things aren't particularly looking good for the platform.

Peter H's 3 posts
Select more comments
Your comment please