Want to better understand the current TV faults? See the all new UK Free TV page

Brian Butterworth published on UK Free TV
See: All transmitters with faults and engineering

Following from your suggestions, I have made changes to the icons used to show which Freeview transmitters have fault or engineering status associated with them.

Previously, you had to look quite hard to see which transmitters had current faults, and which had faults listed for the last few days.

The new format for the page looks like this.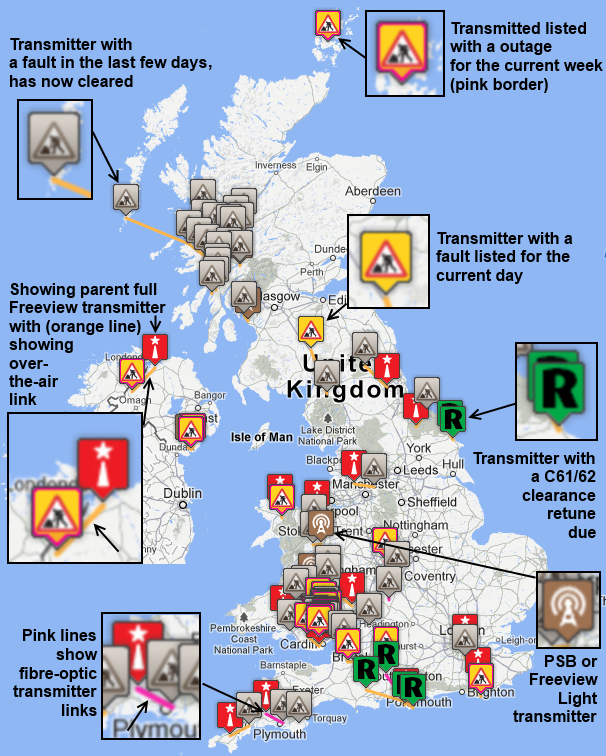 Only the sites with "live" faults are shown with the yellow symbol (those with Digital UK's "this week" status, a pink border).

I hope the above listed changes will help you to understand where the current faults and system outages are.

The new symbols carry though to other pages that shows transmitter symbols.
Comments
Monday, 9 November 2015

Russell was: I have had several customers of mine phoning about reception problems from the Wrekin transmitter ie ITV etc on mux 23 also lots of people talking on social network. How do we report the problems?

Roger's 1 post
Tuesday, 10 November 2015

Roger: viewerservices@itv.com or via telephone on 0344 88 14150 (option four).

Briantist's 38,844 posts
Monday, 14 December 2015

we use freeview on Guernsey in Channel Islands. Signal has gone off for all channels tonight is there a problem?

graham fisher's 1 post
Sunday, 17 January 2016

on sat 16 jan 2016 i could not get picture or sound on ANY channel - was there
a fault with Waltham TV transmitter.

gordon copson's 1 post
Tuesday, 26 January 2016
R
Richard. Jones
9:01 AM
Llandysul

My post code is SA44 4JW (Llandysul I lost free view signal sometime between 16:30 and 20:30 yesterday 25th Jan
Can you please advise if there is any faults or maintenance issues affecting this area please.

Regards
Richard Jones

Richard. Jones's 1 post
Wednesday, 17 February 2016

Why have i not got any TV in Norwich on my Freeview.

NICHOLASBASSETT's 1 post
Saturday, 12 March 2016
S
Sue Flower
10:56 AM
Buxton

postcode SK17 0DY no tv signal is there a fault? This has been happening for weeks

Sue Flower's 1 post

Sue Flower: Your reception (look at the Digital UK link) is a bit hit and miss - Belmont is possibly your best bet. But none of the options seem fantastic. If its been happening for weeks, then you might have a fault with your aerial as well. But check which transmitter your tuned to - it might be you've locked on to a transmitter which is a no hoper, hence the lack of signal.

MikeB's 2,579 posts
Friday, 18 March 2016

I live in Middlesex near Heathrow airport, I have lost around 30 channels and the reception is poor on another 15. I have retuned my to with no success. BBC channels are ok.
Any ideas.

Chris's 1 post

Chris: there is a possibility that weather conditions are currently affecting reception of some frequencies over the UK. The William Hepburn's tropospheric ducting forecast predicts that conditions should clear in your area by mid afternoon. I noticed incidentally that reception of 3 Counties radio on 104.5FM was possible in South Yorkshire at 9am this morning!

KMJ,Derby's 1,811 posts
Select more comments
Your comment please