The end is near for analogue radio... Part 4, the local radio to do list

Brian Butterworth published on UK Free TV
As we saw from part one, radio started out as a regional services. From this national networks were added. Then from 1969 onwards, local radio was added.

However, running a network of local radio stations, all with their own output, staff, presenter and news has always stretched the budget of individual stations a little bit thin.

This is as true for BBC stations, which share a small proportion, 4.6% of the TV Licence (£114.7m on content, £9.9m on distribution, £27.9 on infrastructure, making £152.5m), as it is for local commercial stations that fund themselves from adverts.



DAB local radio
Almost all of the country does now have a local radio
DAB
service - see
List of all DAB multiplexes
, but there are still some on the "to do very soon" list.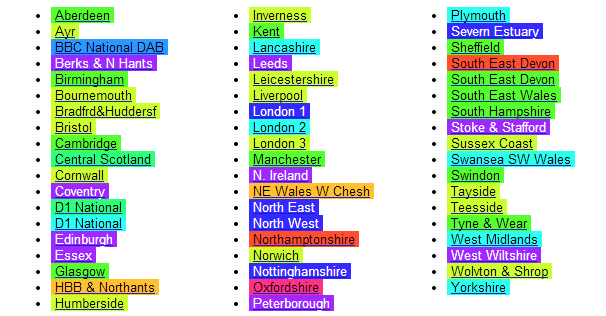 The "missing" services cover 5,583,000 people, which is about 9% of the UK population.
These are:
Cumbria
- 408,000 people
Derbyshire
- 652,000 people, Now
Digital
(East Midlands) Limited
Gloucestershire
- 498,000 people, MuxCo (Gioucestershire) Limited
Hereford and Worcester
- 501,000 people, MuxCo (South Midlands) Limited
Lincolnshire
- 550,000 people, MuxCo Lincolnshire Limited
Mid and West Wales
377,000 people, MuxCo
Wales
Limited
North Yorkshire
- 531,000 people, MuxCo North Yorkshire Limited
Somerset
- 444,000 people, MuxCo Somerset Limited
Suffolk
- 541,000 people
Surrey
about 1.085 million people, MuxCo Surrey and North Sussex Limited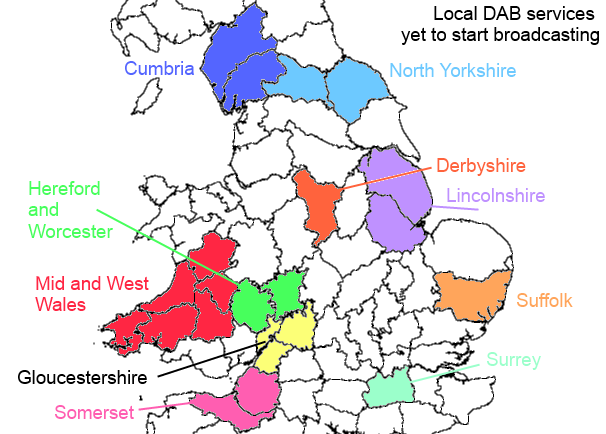 Why can't we have local radio on Freeview?
The
Freeview
service is provided on six
Multiplexes
. Like the DAB multiplexes, these services provide a large number of
channels
together on a single broadcast.
The three "commercial" multiplexes operate a UK wide service, and are therefore unsuitable for local radio. One of the "public service" multiplexes is for high definition TV services only.
This leaves the BBC and Digital 3+4 multiplexes. However, even though these services are "regional", they each cover many "local radio" areas. It would therefore be impracticable to add so many local stations to either
multiplex
.
However,
Local television on Freeview
is coming. These services are designed to provide a
local TV
service to specific local areas. It may be possible for each of these multiplexes to have local radio added to them.
Why can't we have BBC local radio on Freesat or Sky?
The additional cost for the BBC to add the 39 local radio stations not on digital
satellite
(BC
London
94.9 is already there) to the
four DVB-S mode transponders
would probably be marginal.
However, the BBC does have to currently pay
Sky
a large fee to add channels to the Sky EPG, so this would be perhaps unreasonably expensive (see
Government to stop Sky charging public service broadcasters for "retransmission"
).
And whist the BBC owns
Freesat
, it would probably not be worth the bother of up linking 39 radio streams if Sky viewers could not also benefit.
See also
BBC - Annual Report 2012/13 - Expenditure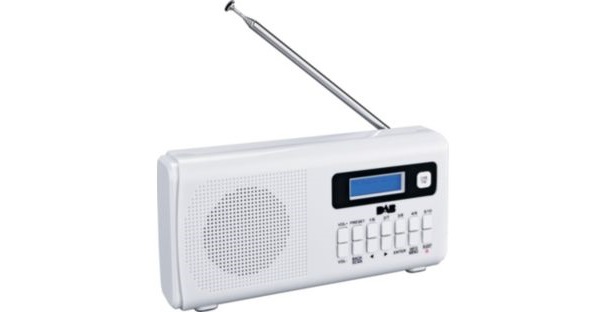 Comments
Monday, 2 September 2013
C
Charles Stuart
9:32 AM
Bristol

Out of curiosity, how does DAB+ improve over DAB in numbers? Is it that the same bandwidth can carry a greater number of bits per second or is it that superior compression means that the same sound quality can be achieved with fewer bits per second per station? Or is it some of each?

Charles Stuart's 159 posts

Charles Stuart: DAB uses MPEG-1/Level II as a audio "codec", DAB+ uses AAC.

AAC is able to provide the same quality of output with about half the bitrate.

There is no change to the COFDM transmission layer, the usual use is to provide more stations.

Briantist's 38,844 posts

Not true FM does not use joint stereo. FM uses a subcarrier to transmit a left minus right signal. The left and right signals are retrieved by the addition and subraction of the left+right signal.

L= ((L+R) + (L-R))/2
R=((L+R)-(L-R))/2

This system has the advantage of mono compatability but a loss in signal to noise ratio.

Joint Stereo basically transmits the lower and upper frequencies in mono to save on bandwidth.

My argument about DAB is that it is not a suitable replacement for FM. That is why the public have been so resistant to buying DAB radios. We need a radio systems that is superior to FM to make it worth while changing. It seems that DRM+ is the best of the bunch at the moment.

The BBC has spent hundereds of millions of licence payers money on an obsolete radio system.

Some would argue that we don't actually need a dedicated radio service. The internet provides a far superior radio service.

Trevor Harris's 367 posts

Brian Wright: Due to the large number of DAB devices, it was decided to not use DAB+ in the UK for the moment.

As per the earlier article, DAB is about choice, not providing higher bitrates.

The "promise" was changed over a decade ago.

Briantist's 38,844 posts
C
Charles Stuart
4:03 PM
Bristol

So a station transmitting at 128kbps in DAB+ will have a similar quality to one transmitting at 256kbps in DAB?

If correct, I think that we should adopt DAB+ as soon as possible. The policy makers in this country are very conservative when it comes to broadcasting. Some countries seem to be quite ruthless and prepared to go for the right system when it becomes available. I think that we should go half way towards them by announcing a reasonably ambitious switchover date to DAB+. I'd suggest 2021 and flick a switch nationwide on the same day. That would give people 8 years to invest in DAB+ compatible equipment.

Charles Stuart's 159 posts

The other big advantage of DAB+ is that it has full Hamming error correction. DAB has a very weak form of error correction which does not do full error correction. DAB+ has a sharper cutoff point when the signal quality drops. DAB has a softer dropoff which causes the famous babling under poor signal conditions. This is one reason that DAB has black spots even well inside the coverage area.

I think it is a mystery to everone as to why the BBC did not switch to DAB+ in the early days when there were few recievers.

No matter what Ofcom says DAB+ is only suitable for national stations because it is a multiplexed system. The EBU does not recommend DAB. The EBU does recommend DRM+ where DAB+ is not suitable.

As far as I know the UK is the only country still using DAB. European countries has also experienced the lack of demand that the UK has. Most are still trialing DAB+. Sweeden has abandoned DAB+ altogether and is trialing DRM+.

Trevor Harris's 367 posts

Trevor Harris:

"I am not sure if everyone has noticed that the BBC does not broadcast in stereo on any of its DAB stations. The BBC uses Joint stereo which encodes the stereo information in a compressed form"

BBC Radio 3 uses 192kbps discrete stereo except when 5 Live Sports Extra is on-air before 5pm.

After 5pm Radio 3 always uses 192k discrete stereo.

"I think it is a mystery to everyone as to why the BBC did not switch to DAB+ in the early days when there were few recievers."

It depends what you mean by the early days. The codec for DAB+ is HE-AAC (or AAC+) and this wasn't standardised until 2006. By then a lot of DAB radios had been sold in the UK. In countries where DAB+ is used the bitrates vary between 48k-80k, so it isn't CD quality by a long way.

"The EBU does not recommend DAB. The EBU does recommend DRM+ where DAB+ is not suitable."

There is no evidence for this assertion. The EBU supports all WorldDMB profile systems (including DAB, DAB+ & DMB) as well as DRM/DRM+, although DRM/DRM+ is not part of their EuroChip standard:

http://www3.ebu.ch/files/….pdf

In my opinion the small-scale DAB solution that Ofcom is looking at for community radio is likely to finish off DRM+, there are no commercial receivers available and,if community and RSL stations can use a cheap form of DAB/DAB+ it isn't worth bothering with a different standard altogether.

"As far as I know the UK is the only country still using DAB. European countries has also experienced the lack of demand that the UK has."

Norway, Denmark, Ireland & Holland are using DAB or a mix of DAB/DAB+. Germany and Italy are rapidly expanding their DAB+ networks due to popular demand. Holland has today launched a national commercial DAB+ multiplex with eighteen new stations, and Italy's national commercial mutliplex will tomorrow be expanded to the Rome area.

"Sweden has abandoned DAB+ altogether ."

This is just not true. Sweden is proposing to roll out DAB+ to the whole of the country in 2014 (to be ratified by the Parliament in October).

Sweden | Country Information
| WorldDMB











Mark's 181 posts

U 105 is a local Belfast station Brian but broadcasts province wide on Freeview (even on relay stations).

BBC Radio Foyle broadcasts to Derry/Londonderry but province wide in the same way as U105, so local radio on Freeview can be done, surely ?

The fact that U105 haven't taken up a DAB slot is possibly because they don't want to give up the far greater coverage that can be achieved by being on Freeview.

PJH's 240 posts

Trevor Harris: "No matter what Ofcom says DAB+ is only suitable for national stations because it is a multiplexed system."

Obvious points:

1) You can have a multiplex with a single station on it.

2) As DAB is run as single frequency networks (SFN) you can have them as large or small as you want. So we have the covering counties (as that's how are local commercial and BBC radio is organised), nationally (like BBC and D1) and super-regional (like Yorkshire or Central Scotland or London 2 and 3).

3) Of course, there is List of all DAB multiplexes | ukfree.tv - 11 years of independent, free digital TV advice which rather puts your "lie" claim to bed as well as Ofcom | Annex B. Local DAB build-out plans

In the UK there are no markets for commercial radio that don't have more than one station, Ofcom | Awards of FM Independent Local Radio Licences and the BBC have a local staion for every location.

Briantist's 38,844 posts

Sorry I was wrong about Sweden. The goverment will allow it's development but refused any sort of funding. There is strong opposition to a FM switch off in Sweden.

It is France that is trialing DRM+. Sorry for my country dyslexia.

I should of course have said Finland.

My point was that the most of Europe is trialing DAB+. and not DAB.

Just checked Radio 3 and you are right real stereo. So you have to tune in after 5. Great what a wonderful service only one BBC station with real stereo part time.

Actually I just tried Classic FM and guess what Joint Stereo at 128k. Even more interesting I got the burbling I mentioned earlier. You might have guessed I don't listen to DAB my ears have had centuries of fine tuning listening to a HiFi system.



Trevor Harris's 367 posts
Select more comments
Your comment please