Best ever emails and improved menus on UK FREE TV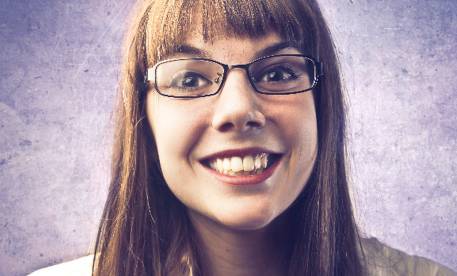 I have been working on making a considerable number of changes to the "back end" of UK FREE TV over the last weeks. This makes the site faster and more reliable, but new menus and responsive mobile layout changes aside - there wasn't really that much for you to look at.
Today I am very happy to tell you that I have made a considerable improvement to the email notification system. Whilst I know many thousands of you read the existing email, it left a lot to be desired in terms of content and layout.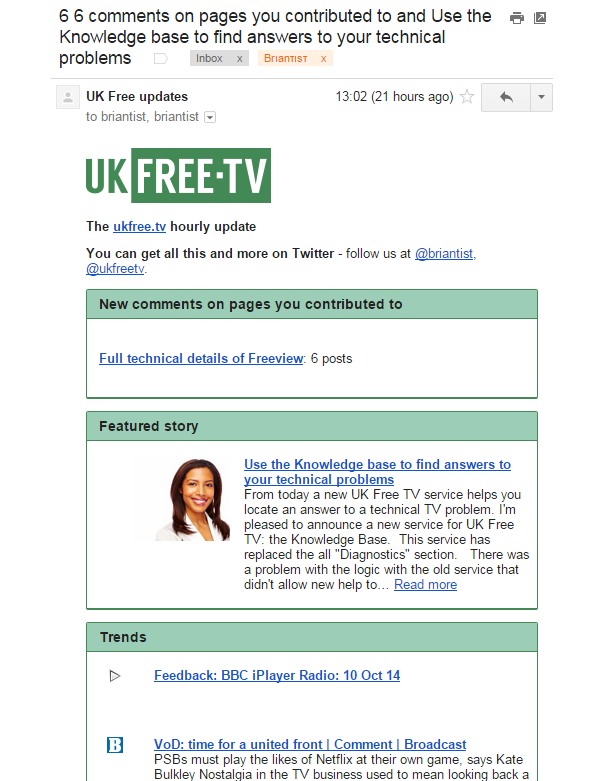 As you can see from the above example, the new layout is much more attractive. It is easy to read on mobile phones and tablets, and the selective use of images makes it easy to understand.
The person message you get will show you:
New comments on pages you have contributed to (if there are any);
A featured story from UK Free TV
A selection of "Trends". These are news articles from around the web that inform you about what is going on in the word of free television. This is a carefully curated daily list. I hand-pick these stories for you each day.
You will see a list of new articles that have been added to UK Free TV since the last email – if there are any.
And then a list of the four most popular pages on UK FREE TV this week.
If you want this service and you don't already have it, use the "SUBSCRIBE NOW" box in the right hand column of each page.
Better menu pages layout

The menu pages have an improved layout. Featured stories have larger photos, and there is a more nuanced use of comments. Every story has a picture and they are all the same proportions (even when old items have the square images).
Did you know?
I've also added a little information box, thus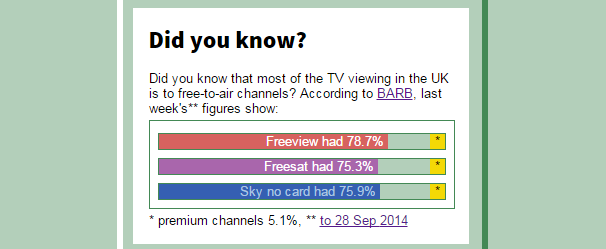 This I have created by going to the BARB site and adding up the viewing figures for all of the free channels on each platform. I've even added up the premium channels (sport and movies) too.
Comments
Tuesday, 14 October 2014

Design a UKFree.tv logo competition.
Send in your designs to this web site.
The winner will have his design displayed on all pages.

This competition is open to all (Even Briantist)

Mark A's 373 posts

Mark A: Thanks.

I'll give it some thought.

Briantist's 38,844 posts

I've had a cull of the dead sections (actually, they will appear under HELP for a while) and I found this page

Useful TV links | ukfree.tv - 12 years of independent, free digital TV advice

was in need of a makeover.

Now it is up-to-date and shows the site logos.

(I also put the logos in the "Did you know?" box when I did today's update of the numbers).

Briantist's 38,844 posts

I think I've also managed to track down all instances of the "IRT bug".

I've written a very long-winded module to ensure that the URLs are "built from scratch", rather than doing some almost-works "regex" work.

So, I'm hoping now that

Your comments | ukfree.tv - 12 years of independent, free digital TV advice

will now work everytime as well as the RSS feed Lee In short does anyone have dates for and the comments list at the top right of every page.

Briantist's 38,844 posts

Briantist

I liked the style you used for the emails up until 10/10/2014, up to last week in other words.

That layour allowed us to quickly find most, if not all, the new questions so we could judge whether we could offer a constructive response to help the enquirer. It also included on the right some links to related questions. We could still navigate throughout the site if we wanted, as we can now, but the email links were a quick way to get in and try to help.

I'm sure you have some of the 'old' style emails, but if you don't I can supply via email.

BTW, not had an email tonight. It used to arrive soon after 7 PM, then that dropped back to 8 PM and then 9 PM. As I write it's almost 10 PM. Any reason?

MikeP's 3,056 posts
Wednesday, 15 October 2014

MikeP: The email get sent out after the delay you selected. However if the email job gets delayed then the email time gets delayed.

I've put yours back to 7pm.

The new questions, when they were in the email was the same as at

Your comments | ukfree.tv - 12 years of independent, free digital TV advice

I'm working on a filter to find posts with questions in.

I'm just working on something complicated first, so that will be done on Friday.

B

Briantist's 38,844 posts

MikeP: I've created a new page for you.

Can you help???? | ukfree.tv - 12 years of independent, free digital TV advice

This shows the most recent comments that are

a) have not had a reply (using the IRT system)

b) score as question. A point for having a "?" and one each for question word "who", "when", "why", "where", "what", "how", "whom", "whose" or "which".

The page shows the comments that score the most first, and are then sorted newest to oldest.

If this works for you, please let me known.

Brian


Briantist's 38,844 posts
Thursday, 16 October 2014

Briantist

I don't understand what you mean by "The email get sent out after the delay you selected", as far as I know there was never any option for us to select when the emails were sent! Around 7 PM suits me admirably.

I looked at the page you offered a link to and that seems to be useful, but the format is not anything like the same as the original email listings. I used the listing that was on the left under the picture to see what subject areas had questions and how many responses there had been since the last listing. That was handy to see what people were asking and to help mem decide whether I had sufficient knowledge and experience of the matter to offer some thoughts.
I then used the listing that was on the right to look at specifically linked queries, some of which had not appeared in the left-most listing but some were 'updates' to previously responded queries.
You new page has some of that, so may be useful.
Thanks for all the hard work.

MikeP's 3,056 posts
Friday, 17 October 2014

MikeP: If you selected a daily email, then the email gets sent out every 24 hours.

When it's time to send you an email, the email is compiled and if there's anything new to sent to you it goes out.

And then the time is put forward by 1440 minutes. This means the email gets sent out at the same time every day.

However, when the email system was upgraded it was turned off for some time. This had the effect of putting the time of your emails forward a few minutes, as the next email time was set with regard to when the process runs (ie, NOW() in SQL) rather than the time that the last email was sent.

The list you are asking for is the second section of the emails sent to you. It's not changed in any way, it's just wrapped in a green box. The code didn't change for that (it did for everything else).

The right hand side of the old email can all be seen on every page of this site. For ease of reading the email has the top few of "Trends", "Stories" and "Popular".

Briantist's 38,844 posts
Tuesday, 21 October 2014
C
colin1951uk
10:03 AM
Eastleigh

Brian, ever since the site was updated I can't read anything on here using Internet Explorer (9).

I can view with any of the Mozilla browsers but IE is a disaster as all I can see are the links to each subject covering the screen (if I could post a screen grab here I would but I don't think it's possible is it?)

Whether upgrading to IE 10 would make any difference I don't know but in any case I don't like 10 as it's not possible to turn off Clear Type which I find hurts my eyes especially when using a laptop.

I do need the use of IE as my email programme uses it to read html emails. I use pop3 collection so I read messages from my drive. On the old system you used I never had a problem but now all I see is gobbedly gook when trying to read the messages.

Has anybody else noticed a problem with IE on this site as if it's just me I may have corrupted the browser which ought to be recoverable but I can't say I've had any other problems with IE so I don't think it's the browser in itself.

I'll continue to use Pale Moon to view here but as I say I can't use my emailer to view your messages unless I can get IE sorted outed.

Any help appreciated.

Cheers...Colin

colin1951uk's 20 posts
Select more comments
Your comment please