BBC Three: Online only is right - if and only if -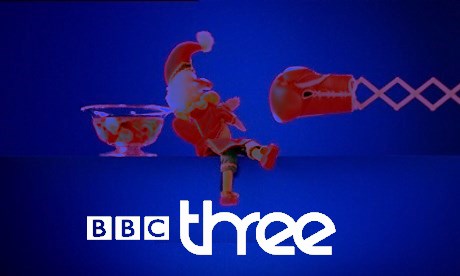 It is Friday 7th February 2025..
Finding a TV set
You are visiting an elderly relative and find in an upstairs room a smallish flat-screen that seems to be without a wireless internet connection. With considerable nostalgia you turn it on and discover that it still seems to be connected to an aerial.
The screen comes on and there is a basic static message saying that "this channel has closed". Undeterred you remember there was a GUIDE key on the remote and hunt around, first for the remote and then for the button.
The guide seems to consist of small selection of channels. Turning to the first, BBC 1 you catch the middle of a lively presentation showing you how to get the My BBC application on any number of devices. This is followed by an hour long drama that was released to the BBC iPlayer this very week.
Going up a channel finds the BBC News channel, looking much like it always has, but with regular prompts to press and click things that cause the words "not available on television" to appear on your screen.
The next channel, ITV, is much as it ever was: soaps and adverts.
Channel 4 is a static graphic saying you should be using 4OD, and the fifth channel the Viacorp player.
The rest of the channel slots are empty, save for the odd one with a static banner.
Sky not in the Sky.
The dishes went as soon as they came. Strong minded as ever, Sky Television executives realised they had passed the point where satellite distribution was unprofitable, the company rolled the whole customer base to internet TV in less time than they took going from analogue to digital. Seeing off the competition from Netflix, Sky did a well-engineered pivot.
Mobile broadband
The steady growth of mobile broadband over the last decade means you can get any TV show ever created at the touch of a button. Many people pay for basic services from Sky, Spotify TV and Apple for vast archives backed up with a lot of US and UK sourced drama and movies. Quite a lot of people pay for football channels as extras, or other sports too.
Some content is free (YouTube) and ad-funded.
At last, the BBC Three question
Does the pull of people from broadcast TV – with the offer to "buy this and save £150" – erode the licence fee? Do the government in power allow for the BBC to be funded another way?
Is BBC Three a ten-year selection of content that as grown and grown over the years?
Or is a long-forgotten channel, in an era where they have passed?
Will the BBC iPlayer still be creating £3,000m every year of content in many genres … or just a run-down news station?
So
The only question is – is the BBC Three proposal just a money saving sop, or is it an investment in an library of content?