Should Ofcom regulate the BBC?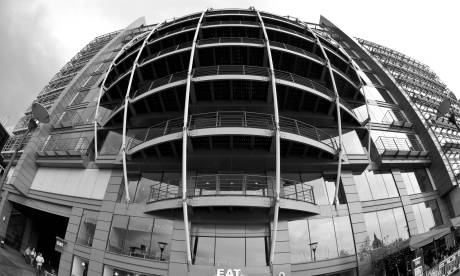 Ofcom is everything you might want from a British regulatory body.
No, it is true. I have had many personal dealings with Ofcom since it was created and I'm not just saying that they are fair, transparent and honest because they are also polite and have even invited me to be one of the Consumer Panel guests.
Their staff all seem to be dedicated to putting all facts into the open and always publishing the research behind their decisions. Ofcom publishes rules in advance, and then adjudicates based on the pre-agreed list.
Their ability to both deal with complaints from single members of the public whilst holding the tide against vexatious and attempts at capture by third parties demonstrate British values of fair play and fair dealing to the core.
Holding out against the vested commercial interests of business and preventing powerful NGOs from using them to make their points is commendable.
The BBC Trust problem
I think that it is fair to say that the BBC's governing body, the BBC Trust, has ever had the word "commendable" associated with it.
The old way the BBC was governed fell apart when a highly respected judge demonstrated unparalleled cognitive dissonance and didn't manage to let all the evidence he heard sit in the same judicial brain as the idea that the Prime Minister was capable of being economical with the truth.
So, having ditched a popular - and populist - Director General in the process, the BBC Governors were seen to be at fault and were replaced by the BBC Trust, which was set up along the lines of the corporate governance of PLCs.
The problem was - and still is - that like Ofcom, the trust sets the rules and adjudicates on them, but also sets policy through service licences and testing the output against the licences.
The problem is that the BBC Trust isn't a trust: it doesn't have the money, so it had no powers beyond "being critical" of the management.
This is a really important distinction. Ofcom issues licences to broadcasters that involve signing up to the codes of practice and points of law. Noncompliance means Ofcom can - and rarely does - pull the plug. It can also issue fines.
So let Ofcom govern the BBC?
There is a certain level of logic to this idea. It would be a good way to deal with the internal conflict the BBC Trust has that makes it need to both defend and critique the BBC management and producers.
Given that, as now, people would be required to complain to the BBC first, with Ofcom being used if matters cannot be resolved. This seems quite a reasonable idea, given the record for fairness I have pointed to above.
But there are two problems here. The first is that without sanctions (and the backstop of "pull you off air") how is this going to actually work? How do you give this power to a fair regulator and get keep it away from a Machiavellian politician?
The second problem stems from the BBC having it's own rules. Won't someone say "these rules are so similar to Ofcom other rules, why not merge them?" It is a simple matter of efficiency to sweep away a century-old pillar of independence from the state.
Perhaps there is a way for a new BBC supervisory body to subcontract some regulation functions to Ofcom. This would allow the the new body to use the reputation of Ofcom to boost the BBC, but such an arrangement is far from being clear.
Comments
Tuesday, 26 May 2015

brianist: I have to admit that my dealings with Ofcom were pretty useless. I was one of those who complained after C4's transmission of 'The Great Global Warming Swindle' some years ago. Ofcoms basic answer to our complains was 'its science, its complicated, so who can say? We are so blond....'

Your right about the independence factor. The BBC would then come under an organisation whose makeup is as follows:
'The Board comprises a Chairman appointed by the Secretary of State for Culture Media and Sport; such number of other non-executive members as the Secretary of State may appoint and the executive members (the Chief Executive and any other executive members (if any) as determined by the non-executive Board members). '

The politican doesn't even have to be Machiavellian! Having said that, Seamus Milnes article not so long ago about how his father was forced out by Thatcher shows that if they want something, they'll get it, rules or not.

MikeB's 2,579 posts

MikeB: I suspect that the issue you highlighted with the transmission of that film is that the Ofcom's duties in relation to Channel 4 only are to ensure that it is complying with it's remit, not that what it transmits has to be, say, "scientifically accurate" because that's not actually part of the rules.

Whilst I am in agreement with you about the issue: it is Channel 4 that was in error, not Ofcom. It is the Channel 4 remit that needs to be changed.

It just seems to me that the "oh, just use Ofcom" is actually a back-door attempt into meddling.

I'm still speechless about the Theresa May "Ofcom to pre-vet programmes" idea, but you can see how this isn't going to end well.

Briantist's 38,844 posts

Briantist: I think many of us were speechless about Teresa May's idea, including some of the Cabinet! It should at least give work to underemployed actors doing voice overs, so there is always a silver lining. Its wont end well, but the fact that even the Murdoch press thought it a terrible idea might mean its quietly dropped.

I totally agree with you about using Ofcom. Its key personnel are essentially all appointed by the government of the day, and that influence will be used in some way, usually to the bad. Thats not to say that the BBC is independent either - the chair, or the head of the BBC Trust has normally ended up being a former high ranking member of the ruling party (Patten) or a chosen ally (Hussey). However, they do tend to end up going native, so you can see why Ofcom is an attractive alternative - they are under the thumb, but norminally 'independent'.

MikeB's 2,579 posts

OFFCOM are useless! BT in a monopoly and Shy combine to create a duopoly but offcom do sweet FA despite multiple complaimts they are toothless lackies paid too much for too little - BBC works fine as is oeriod except that unfair competition by Sky has forced all sport off BBC and Murdoc hopes to do the same with the rest of the BBC BUT then where will he buy his programs for his endless supply of repeats? without sports monopoly Sky would fold period.

Mike's 2 posts

I wouldn't trust ofcom to organise 2 tin cans and some string, run the BBC! good god it would just end up a political tool for the government. Someone would be making money out of the back handers though.

Ian's 497 posts
Wednesday, 27 May 2015

Brian, sorry, but I think you're wrong on several accounts in your lead article:

The BBC Trust is judge, jury and appeal court, and anything but "independent" of its chums at BBC Centre. Worst of all, the complaints process it administers is woefully lacking in transparency (try pursuing a complaint about a BBC broadcast). If it does finally manage to find fault in a programme, its normal course of action is "remind the producer not to do it again..." .

Very serious BBC failures (and don't let's pretend the BBC hasn't misled viewers and distorted the truth on several significant as well as minor issues) get brushed under the carpet of the BBC investigation process, sometimes even for years, before they are quietly leaked out when everyone's forgotten what the issue was.

Its own new Chairwoman has said the BBC Trust is "not fit for purpose". She's right.

In principle, the Programme Content Standards Rules which Ofcom uses to govern all other channels apply equally to the BBC (as they do to the other Public Service Broadcasters). So the BBC has, in effect, a duplication of Ofcom regulatory activity inside itself. Only the BBC "licence" is different - as has been separately laid out in terms of the Royal Charter.

It's also wrong to say that Ofcom is a route of appeal if your complaint against the BBC is not handled satisfactorily. Ofcom has only limited jurisdiction over BBC programmes - see "How to Complain" on the Ofcom website.

I do agree with you that Ofcom is a pretty good regulator. And we do need a broadcast regulator. I have two main complaints about Ofcom, however:

A core part of Ofcom's brief is supposed to be to support the creative industries in the UK - which are an enormous contributor to the UK economy. In recent years, Ofcom has largely walked away from this part of its remit, focusing instead largely on "consumer protection" from harm, offence, etc. Understandable, perhaps, when part of the Tory manifesto two elections ago suggested cutting Ofcom down to a 5-man executive.

Although Ofcom is supposedly "independent", don't forget where its funding comes from and who appoints the Minsisters to oversee it - the government of the day. Witness how Ofcom's treatment of Sky has changed over the years under each new government. But political interference isn't Ofcom's fault.

My other beef re Ofcom is that I don't know another regulator that doesn't oblige consumers to FIRST complain to the broadcaster (the supplier!) before subsequently complaining to the Regulator only if they are not satisfied with the response. So we have a regime where it's so easy to throw a complaint into Ofcom just because you don't like a programme (and apparently can't find the 'off' button). Many complaints received from Ofcom are from viewers who haven't even seen the programme, but "heard about it..." and don't like it. Crazy.


Ofcom is well able to, and should, regulate the BBC in all matters as with other broadcasters - except with regard to the BBC's Royal Charter. Allowing Ofcom to regulate the BBC is only fair to all other broadcasters, who are in effect subject to a different regulatiory regime from that which applies to the BBC..


Fred Perkins's 9 posts

Fred Perkins: I thought I made it quite clear that the BBC Trust is a disaster. The words "The BBC Trust seems to be not really living up to expectations" start the article!

Where did I say that it was "independent" or "fit for purpose"?

I also never said that Ofcom had any current "jurisdiction" over the BBC at the moment?

You seem, somehow, to have read a different article from the one I wrote.

Briantist's 38,844 posts
Thursday, 28 May 2015

I am not to keen on OFCOM. They allow Sky TV to charge a fortune in subscriptions and block nearly every Children's TV channel along with sports channels and every Documentary Channel unless you pay them. Plus you have to pay Sky TV to use the recording functions on Sky HD or Sky Plus. OFCOM don't bother to challenge any of this after I wrote to them on numerous occasions.

michael's 368 posts

michael: Ofcom don't "allow" Sky do this, they don't have any say in the amount that Sky charges. They have no powers to get involved. Ofcom can only work within the laws. Such a change would come from the Competition and Markets Authority (CMA) - Competition and Markets Authority - GOV.UK .

If you want to ask them to invesitage then there are forms here: Notify the CMA of anti-competitive or market issues - Publications - GOV.UK

Briantist's 38,844 posts
Sunday, 31 May 2015

Someone needs to sort out the biased mess of a wasteful corporation, that the BBC has become.
It's funding is archaic, to many - it just looks like a gravy train, it has gone from creating some of the best programmes in the world - so some of the worst - now it is finally, under some sort of threat from the Government - it's unions & staff, have created their own PR defence league: "SAVEOURBBC"

I just hope the government puts the biggest size 12 boot into the BBC it can muster - the corrupt corporation needs it.

Joe Black's 12 posts
Select more comments
Your comment please