Super new feature: What radio can I get? Radio prediction+mapping now on UK Free
You might recall that I have been recovering from an operation on my leg, so I am unable to leave the flat. This means I have spent a lot of time upgrading UK Free TV.
I'm really sure you are going to like the newest addition: DAB and FM/AM prediction and mapping. All you need to do is visit:
https://ukfree.tv/radio/prediction
If you are using a mobile phone or other device with GPS, your location will be detected. Otherwise enter a postcode or national grid co-ordinate and press "PREDICT".
Here's what you will see: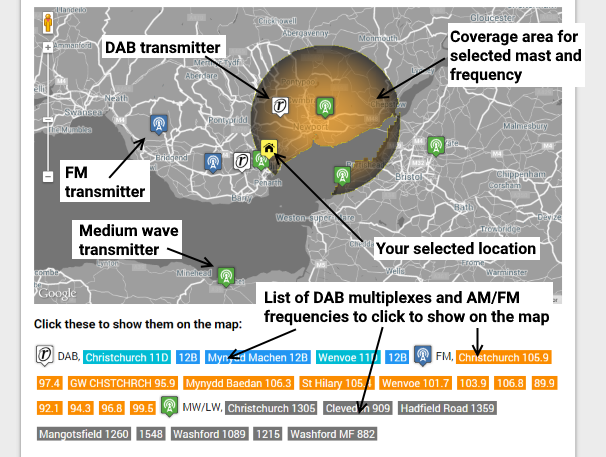 These are fully interactive Google Maps, so you can zoom in as much as you like - and you can even use the Streetview "pegman". Click on a transmitter to see one of the frequencies it covers, or use the list of DAB multiplexes, FM frequencies (in orange) or MW frequencies (in grey).
List of stations
The map is very nice, but you want to know which stations you can hear? Listed below is an easy to read list that looks like:
Freeview
I did also consider adding in the Freeview mast information too, but I have decide to leave that information on a separate page:
https://ukfree.tv/channels/radioontv
Beta
Whilst I have done lots of testing, if you can find anything you think isn't right, please let me know. Otherwise please enjoy.
Comments
Friday, 14 August 2015

Here's a few examples.

Somewhere with LOADS of radio stations ("Broadcasting House, London")

https://ukfree.tv/radio/p…A1AA

Somewhere with just a few on long-wave ("New Gale")

https://ukfree.tv/radio/p…26AR

Somewhere with poor FM but good DAB (SN15)

https://ukfree.tv/radio/p…53PF

Briantist's 38,844 posts
Your comment please