Five tips for when you are buying a new TV to watch Freeview or Freesat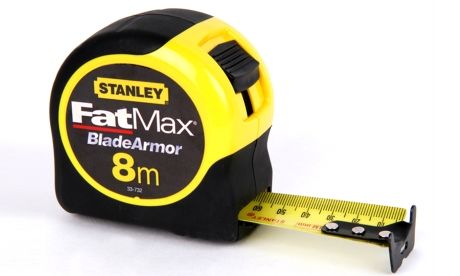 Why do TV stores have a layout that makes it hard to view televisions from a "sofa" distance?
Tip 1: Measure the distance from your sofa to the set at home and then replicate it in the store
Retail stores show the TVs on sale in a way that is somewhat different to how they are seen from a living room sofa.
Remember that you should view a TV with your eyes in the centre. If you're looking down, or looking up, then you won't be able to see what the set looks like in normal use.
The following table shows four optimal distances** in meters to be from a widescreen TV set. The first "typical" value (shown in green) is the distance away you need to see all of the screen without having to move your head.
"HD" is the viewing distance to see the benefit of Full HD ("1080p"). Cinema is the distance you should be for optimal viewing of movies. The "UHD" distance is how close you need to be to distinguish ("4k") UHD from Full HD.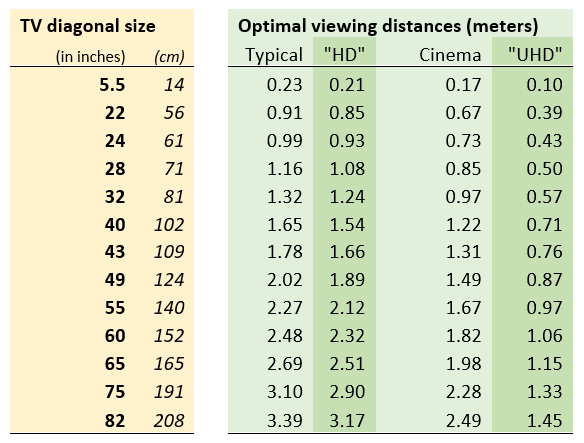 If your set is 3.5 meters away from the sofa, it won't look any better to you HD than standard defintion, even it is an "82 inch" model.
Tip 2: Considering your lighting conditions?
You never see TV sets for sale close to exterior windows. They are almost always at the back of the store where the lighting is constant … and low.
You might have a room like this at home, but if you don't you might want to consider that the TV could also be in a well sunlit room when it's being used, or is used to watch summer sport such as Wimbledon.
The less dark the viewing room, the less benefit you are going to be able to get from new technologies such as HDR (where you can see extra detail when pausing some movies). If it's a general use set in a well lit family area, paying extra for HDR or UHD may never be beneficial.
Tip 3: Can you see the TV you want to buy with live Freeview or Freesat channels?
When you visit, I bet that all the sets are showing wonderful looking mountains, or time-delay aerial city shots or clips from animated movies.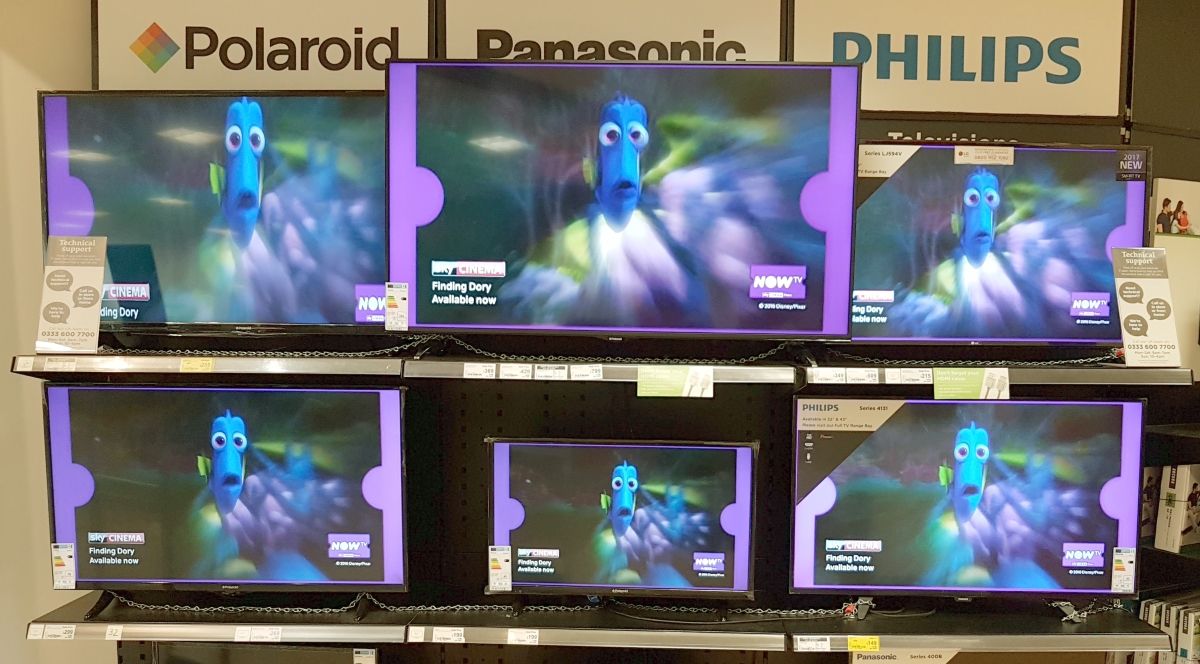 If you want a TV at home to watch Homes Under the Hammer or Dave Gorman: Modern Life is Goodish or Judge Judy – ask the store to show you BBC One, Dave or CBS Reality live from Freeview or Freesat.
Tip 4: Does your TV need to be "Smart"?
The problem with buying a "smart" TV is the screen will last much longer than the "smart" bits - the built-in apps it will age badly because you can't replace the built-in computer they run on.
The software apps on mobile phones are updated daily whilst the software on a "smart" TV gathers virtual dust. Touchscreen mobile phones have brilliant interfaces, smart TVs with their clunky, fiddly remote controls have the worst interfaces ever invented.
You might like to consider not worrying about a "smart" TV and use a £30-ish streaming-device such as Chromecast or Amazon Fire stick, Apple TV or Roku. You can then use the much more conveniennt (Android or Apple) tablet or phone to select things you want to watch. If and when the streaming box goes out of date it's another £30-ish: you won't need to throw away a whole TV set to get "smart" software upgrades.
Tip 5: Use external speakers
Physics says that it is impossible to make a TV flat and get good sound from it.
So, don't worry too much about the sound the TV makes in the store, as you won't be using it: either use an existing stereo or a sound-bar. A good one should last for many years.
What do you think? Do you have better tips? Tell me in the comments below.
** Note: use this equation to calculate viewing distance, d, from diagonal screen size w, using g=30 (mixed usage), 32 (Full HD), 40 (cinema) or 64 (Ultra HD).
Comments
Sunday, 22 October 2017

Dr Bryan Roe: The rule of thumb is go up one size from what you've already got - if you got it right the first time, then it should be fine the next time. A 32in Panasonic with Freesat is a good 6 years old (G series? - so a good set with lots of HDMI's), and if you measure the width, probably around 29in. A modern 40-43in 4K set is 36in, and being able to sit a little closer, etc, should be fine.

But if you just want to update to stream, then a) look what you already have, or b) buy a streamer.
Blu Ray players, Freeview HD boxes, PVR's and games machines are all smart these days - we've got all of the above apart from a modern PVR (the old one has stopped working) under our Freeview TV, and can use any of them. See what you've got.

If your about to upgrade your PVR, then one with Freeview Play and wifi would be a good choice - you'd get an HD tuner for watching and recording, plus catchup, etc.

But a Amazon Firestick, Chromecast, Ruku etc would all be good streamers. The Ruku has the advantage of not being tied to any service, and is seen as the Swiss Army Knife of streamers (thats what the Now TV box is based on). Amazon, Now TV and Chromecast are all based on the Gillete model - they want to sell you product, and so the kit is relatively cheap.

As for the point about OLED, its good to see the Japanese (or at least the nationalised rump of the Japanese panel industry) going for it. LG has been the only brand making them for a couple of years (they supplied OLED panels this year for the very nice Sony and Panasonic OLEDs). However, OLED panels are still expensive to make, and its currently worth making them only in 55in plus - so economies of scale and competition might drive down prices.

OLEDs are great in many ways, but until now have had some problems matching LED's for motion and possible brightness, but I must admit to loving the Panasonic. On the other hand, its twice the price of the lovely Panasonic 750 LED - its still a competitive market. We will see what happens.

MikeB's 2,579 posts
Monday, 23 October 2017

Dr Brian Doe:

The BBC has not discontinued the iPlayer at all. We still use it to catch-up with programmes we have missed when broadcast live. All they've done is required some form of check to ensure viewers have a suitable licence.

We use a 32" (the diagonal measurement of the actual display) for both SD and HD viewing on Freeview and Freesat (though we have a Sky HD box we don't pay the extra for the HD service as we can get all we want on Freeview/Freesat). Our viewing distance is about 4-5 times the diagonal measurement and that suits us (that is the suggested ergonomic distance for comfortable viewing). We would not like sitting only about 1.2 metres away from the TV as that is uncomfortably close and would block the view for others.



MikeP's 3,056 posts
Thursday, 26 October 2017

Johnny Foreigner: Just to let you know it has nothing to do with Brexit, and everything to do with DDOS attacks that every website has to put up with these days.

At the moment, you can't use the site outside these:

- GB/UK
- US
- IE
- CA
- DE
- IN
- NL
- AU
- ZA
- BE
- PL
- GR
- IT

If you use an anonymizing system such as a VPN or Tor, you might not be able to get in.

I know it's a pain, but there has to be a balance between allowing the site to be seen worldwide and being kicked off air for everyone every time there's another DDOS attack in progress.

It troubles me to have to do this.

Briantist's 38,844 posts

Johnny Foreigner: What I'm going to do is disable the DDOS system until the server gets overloaded.

It will automatically kick in again if/when there is another attack.

Sorry again for the inconvenience.

Briantist's 38,844 posts

@MikeB: Thanks for all your comments.

I did stick the calculate for the screen distances at the end of the article and you can use any form of measurement you like. In Excel format it's

=(8*SQRT(337)*C7))/(337*TAN(M2*PI()/360))

Where C7 is the screen size and M2 is 30 (mixed usage), 32 (Full HD), 40 (cinema) or 64 (Ultra HD).

@John Foster

The values of 30, 32, 40 and 64 degrees are well researched. [1]

The 32 degrees and 64 degrees relate the resolution of the human eye and the ability to see individual pixels (for "20/20 vision"). Remember that the eye actually sees very little and the brain makes up for what it can't see.

The 30 degrees and 40 degrees values relate to the ability of a two-eyed human to see the whole screen without moving the head. Movies are "shot" on film and designed for 24-fps playback and have always made the assumption of a big screen so film directors "expect" the viewer to be sitting closer.

For TV shows (that aren't movies) the idea is that you need to see the whole screen because a lot of shots will be "close ups" and/or fast panning that need the whole of the screen to "enjoy".



[1] TV Size to Distance Calculator and Science

Briantist's 38,844 posts

Briantist: Rtings is a good website (always useful if you want to find a panels response time for gamers), and I can see what they are getting at, but I'm wondering if they are just overthinking it a bit.

There is also the bit which goes 'Since resolutions found today are almost exclusively 4k/Ultra HD, It takes a very big TV watched from very close to see imperfections related to the resolution.'

A) It assumes every had 4k (and they dont)

B) It assumes your watching 4K res on a 4K screen, which for most people isn't true most of the time. A lot of people are going home with their new set, and just watching broadcast TV through it, and not even in HD.

C) That panel is up to showing motion etc well enough.

I get the impression they've crunched figures, and come up with 'science says'. And thats fine. But I did notice the fourth question down:

'What is the minimum and maximum distance for a 40" 1080p HD TV? I find 7.8 FT too close in my room.'

And the answer was :' You benefit from the 1080p resolution closer than 7.8 ft, and you will see pixels at 5.2 ft. Of course, you can sit farther - you just won't see all the detail (assuming you are watching Blu-ray quality footage).'

So even though the guy said that he found seven and half feet away a bit uncomfortable for him (about another foot would be probably more comfortable, perhaps two, in my experience), and the advice was 'sit closer...because we say it will be better!'

I just want people to be comfortable when they watch TV, and as customers, they can chose what they like. But buying the wrong size does mean we will get them....and we dont like getting them back.

MikeB's 2,579 posts
Sunday, 29 October 2017

@MikeB

Rtings was a site I used to verify my calculations, and it seems well argued. They are taking the data from the SMPTE, which does seem to used a scientific basis.

I must admit that I used a 4k screen everyday as I have a Philips BDM4350UC/00 43" IPS LCD Monitor that I used for coding.

This means that I do indeed sit about 70cm from the screen. This means that I can't see all of it at any one time, but I do benefit from having all 8.3 million pixels because I can use it to have my development IDE open, as well as web developer consoles open and various forms of graphical and text based remote sessions too.

But, it is clearly to big and close to watch a TV show on.

Quite at exactly what distance I can make out individual pixels at 103 dots per inch before it blurs into, I'm not really that sure how I could do it without fooling myself...

Briantist's 38,844 posts

Briantist: I have enough problems getting people to go up a single size from what they have now, so I'm not sure that the Rtings data would help me...

I take your point about the numbers, but customers are generally pretty conservative, and as a salesman, obviously always right!

Thats a very nice monitor - my brother has a 34in curved screen for work and gaming (he also has a 58in 4K set about 7 feet from him, so he certainly isn't thinking too small), which was fantastic. As you say, you can fit a lot of different windows etc onto that one screen.


MikeB's 2,579 posts
Monday, 30 October 2017

MikeB: I certainly find it reduces the "where's that window gone" frustration that my type of work always entails.

On a more positive note, the moves to first 16:9 and then HD production has certainly meant that the people making TV take much more care with the output, no matter if you watch it on HD or not.

Both UK and US television shows have better sets, make-up and lighting.

It's a shame that the BBC can't get past everything seemingly being shot for 4:3 viewing. It only US TV shows (I'm thinking Mr Robot as a good example) where the whole screen is used for dramatic effect.

Briantist's 38,844 posts

MikeB:

I took Brian's advice and got a Firestick, very pleased so far, so staying with the 32" Panasonic Freesat for the moment.

Maybe look at a new PVR in the new year

Bryan

Dr Bryan Roe's 5 posts
Select more comments
Your comment please